My X60 has a hot right palm rest, not a new or unique problem, and one I find annoying. People have been using indirect methods of measurement such as internal temperature sensors, with programs like
tpfancontrol
There are obvious problems with this method of measurement, such as the fact that the sensor is not really on the right palm rest, and the fact that sensors vary in accuracy and one has no idea how accurate the sensors are in a given X60.
One of the most accurate ways of measuring temperature is with thermocouples, which are simply electronic temperature sensors. I use thermocouples and dataloggers (a thermocouple reader that records measured temperatures at regular intervals) in other pursuits, and hence have them lying around. I figured that I might as well measure the actual temperatures present on the surface of the right palmrest of my X60, which is now around 3 weeks old (see sig for particulars).
Here is a picture of my
"experimental testbed."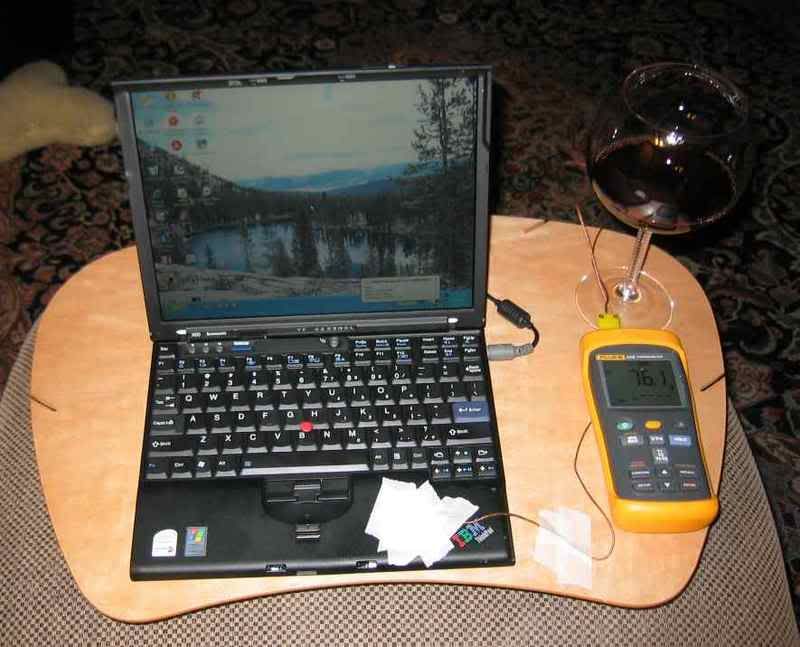 The thermocouple was taped down with many layers of masking tape (to insulate it as best as possible from the ambient temperature) in the middle of the right palmrest, and the far end was plugged into the Fluke datalogger. Before getting this far I validated the accuracy of this particular thermocouple/datalogger combination by immersing the thermocouple ("
TC"
) in an ice water bath and in boiling water; it was within a degree F in both cases of expected values, and room temperature readings appeared accurate compared to other digital thermometer readouts in my house.
The X60 was plugged into AC power (110v) during the entire period of temperature measurement; as may not be evident from the picture, the larger 8 cell battery was installed.
Since a long night of testing was planned, a glass of Burgundy was called for (but not left in that position given my prior experience trashing an X31 screen with spilled red wine
)
I just left the datalogger on. At first I had the wireless card set on the maximum power savings (lowest power) setting. I used the computer for a brief while and did some large downloads over my wireless internet from my desktop which correlates with higher temperatures shown. Then, I had dinner and the machine set at idle: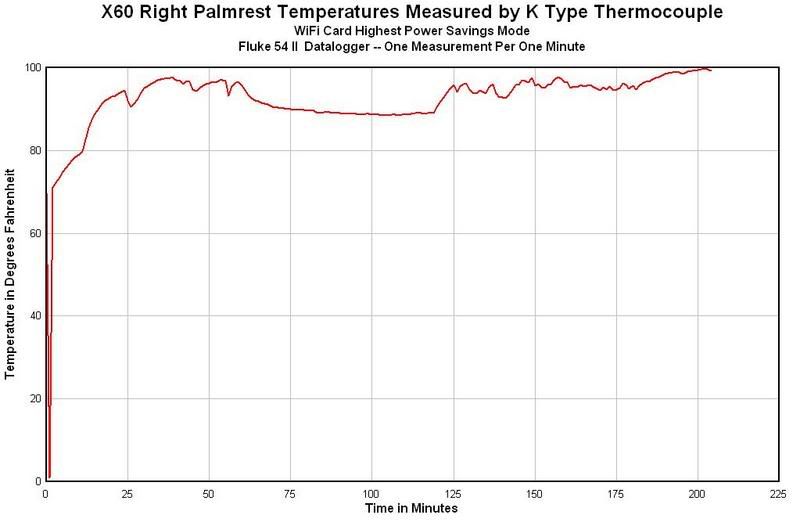 Later, I reset the WiFi card power savings to "medium," which is how my laptop was set when I received it from Lenovo. I also did some web browsing and file downloads, which are reflected in the times when the palmrest temperatures were the highest: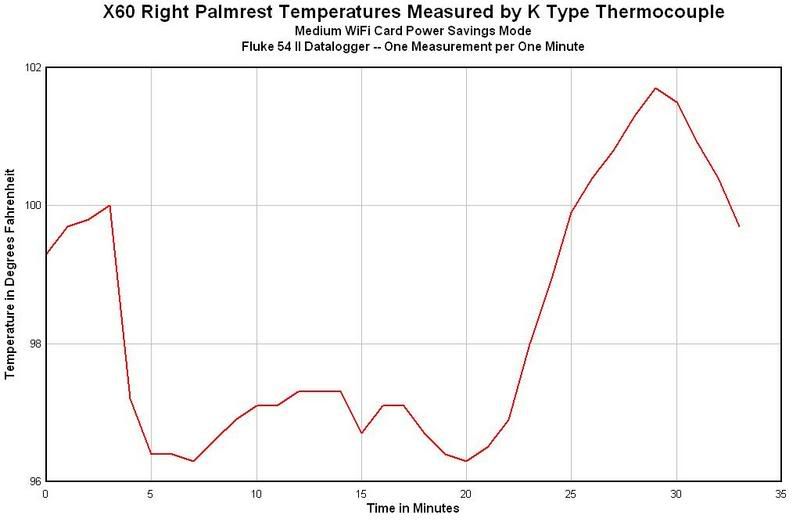 The graphs look different largely because the temperature range on the "medium" power setting is compressed since the machine was already warm at that point so it did not start from room temperature. The effect of setting the WiFi card on maximum power savings setting is to lower palmrest temperatures by a couple of degrees Fahrenheit, a real difference but nothing much to write home about.
I did look at
tpfancontrol
reported temps while these temperatures measurements were being recorded. At idle, the APS temp was around 39C and the highest measurement I got with the WiFi card set to High Power Savings was around 46C (although yesterday I had readings of 48 and 49C on this setting). On Medium power savings the APS tended to be a couple of degrees warmer on average, e.g. 46-49C as opposed to maybe 42-44C on high power savings. I found some, but not total agreement (correlation) between APS temps shown on tpfancontrol and the actual palmrest measured temps.
For those who are "fahrenheit challenged," the highest recorded temperature in the study, on medium power savings, 101.8F is about 38.8C. The highest temperature recorded on the highest power savings setting was 99.6F or 37.6C.
The measurements I have taken document the temperatures that will be felt by a right hand resting on the right palmrest of my X60, which has a 1.83 ghz core duo processor, 7K100 100gb hard drive, and 2gb of RAM. In my opinion, they are uncomfortably warm. I haven't yet decided what I am going to do about this, but I'm probably going to call lenovo support and see what options I have.