I've been having this NMI/BSOD issue since 2009 on my T60 that is still running XP Prof/SP3.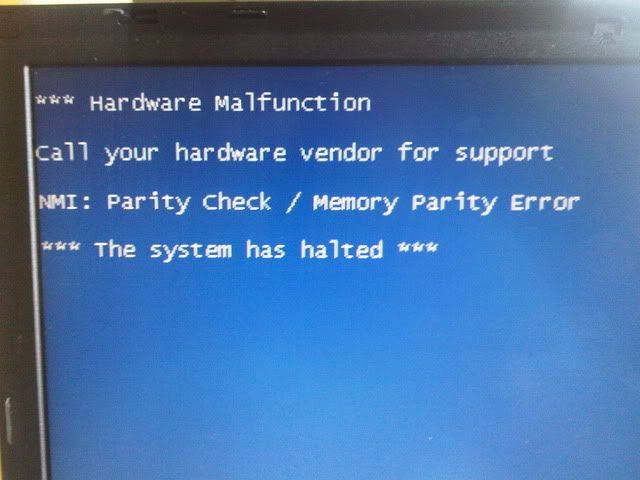 Now that I've finally replaced it with a T61 I was hoping to clear the NMI/BSOD error up for good before selling the T60.
My quick fix that worked over the years was removing the battery when the laptop was plugged in via AC.
At first I figured it was the memory and battery. So I replaced both the memory and battery(with a brand new 9 cell) from Lenovo and the NMI/BSOD came back eventually.
My NMIs are freakishly rare (5-6 times a year) and mainly only tend to appear when watching videos on YouTube for a long length of time or watching multiple video windows (ie. DVD player, Youtube, video games) at the same time.
For instance in early 2010 I got three NMIs in one day. All I did was reboot the system each time. Then during the next 12 months of daily use I NEVER got another NMI/BSOD.
Over the years, I got so good that I could sense when an NMI was coming on because the fan would get louder and/or the screen would flicker right before the NMI/BSOD.
The over all pattern that I discerned was:
1. I
never
got the NMI/BSOD when working offline, when working on word documents or when doing normal web browsing (like eBay, Facebook, forums).
2. I
never
got an NMI/BSOD when the laptop was only using battery power.
3. I
never, if rarely,
got an NMI/BSOD when just the AC adapter was plugged in with the battery removed.
4. 99% of my NMI/BSOD came when watching any video or graphic media over the internet continuously for a period of time greater than 30 minutes. Each time the fan would increase and the screen would flicker slightly seconds before the BSOD.
or
5. 99% of my NMI/BSOD came when the battery and the AC power were connected to the T60 at the same time.
In the end I figured it had to be related to battery/AC connection (laptop getting hot before NMI), or Graphics Card/WiFi source (screen flickering before NMI).
Anyway I just updated the BIOS and all the Think Vantage drivers and stuff for March 2012 so I will see if that fixes it.
NMI = memory parity error
BSOD = blue screen of death