I tried to install a Intel 330-series SSD in a newly purchased SATA caddy, but could not get this to work properly:
I already had Win7 running on the IDE HD, so I Ghost'ed it over to the SSD.
The PC starts up fine, but about every 10-15 sec, it seems like it gets "stuck" for about 5 sec with the harddrive light on the caddy on. There are no error messages displayed, and none in the event log. I installed Intels SSD software, and ran the optimizer, TRIM etc (many times!), but nothing improved. The Intel Diagnostic program says all is fine.
I gave up in the end, and put a Samsung HM250HI (250 gb SATA) in the caddy, and this is my current configuration.
I am not sure how much I would gain by working on the SSD installation, as I feel the Samsung in the caddy is giving me good performance, at least a lot better than the old 40 GB Htachi IDE HD, but if anybody has a hint, I am more than willing to test it!
Here are some results for the 3 different disks.
(The Intel results is taken when booting from IDE, could not get meaningful results when booting from it.)
The original Hitachi 40 GB IDE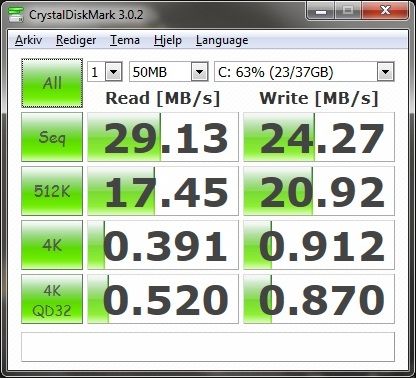 The Intel 330 60 GB in Caddy (Not booted from):
The Samsung 250 GB SATA in Caddy (when booted from):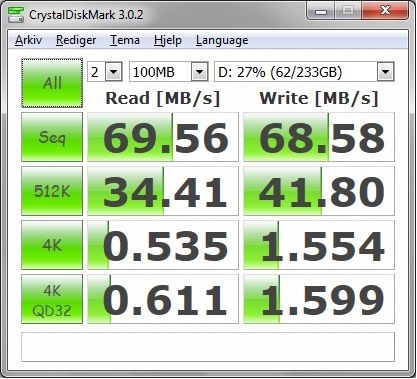 The PC is a T42, 2.0GHz, 2 GB ram, SXGA+, ATI 9600/9700 (Not much more to upgrade here