All images are clickable links to HUGE versions on another site. Enjoy.
Thank you for this information! I successfully reflowed my bga video chip last night and let me tell you, it was scary!
First off let me point out these two videos of people doing this to their xbox 360.
http://www.youtube.com/watch?v=T5nfmJTQJr8
http://video.google.com/videoplay?docid ... 0fix&hl=en
I'm assuming they did this on the high setting because I had a problem getting my temperature to go above 190 degrees without getting the heat gun right up on top of the chip.
Disassembly of your laptop. It's the service manual if you don't already have it.
ftp://ftp.software.ibm.com/pc/pccbbs/mo ... 192_01.pdf
If you notice on page 110 of this PDF there is a processor heatsink on some models that covers the video chip as well! I think if we could all get ahold of these it would not only prevent the video chip from getting hot enough to loosen, but help put pressure on it to hold it in place!
The fundamentals of bga reflow
http://www.research-intl.com/reflowhand ... attach.pdf
On page 2 of this
www.altera.com/literature/an/an081.pdf
, there is a fantastic chart that basically covers how you need to go about hitting the correct temperatures. Here is an excerpt from
http://forums.macnn.com/66/ibook-and-ma ... usb-logic/
Everyone should read this thread!
Quote:
Here's is a more specific and accurate curve:
1. A gradual increase in temperature, of about 1 to 3 deg. up to a temperature of 150 deg C (302 F). Pre-heating is extremely important so boards don't warp. It may take a minute or even longer to pre-heat...No need to rush it. Flux activation begins at 150 deg. C (302 F)
2. Through the flux activation phase, a slow ramp up of temp. to a peak of about 180 degs. C (356 F) over about 90 seconds. Reflow begins at about 180 degs. C (356 F)
3. A gradual increase during the reflow phase to about 210 degs. C (410 F) for 60 sec.
6. Cooling phase should then begin gradually, not abruptly.
I found a really good graph of the temperature curve here:
www.altera.com/literature/an/an081.pdf
So, as long as the heating is gradual and controlled you should be able to reflow the solder without frying the rest of the board. Yes...the whole board will get quite hot despite masking everything around the video chip. As long as it's gradual and controlled, you should be OK.
Please thank MacInEnterprise for this.
My process:
Make sure you know a round about temperature of your hot air gun. Start by practiving on an old pcb, I used a modem and played around with the temperatures until I was fairly comfortable with removing components.
First I disassembles my laptop completely to make sure that it wasn't something grounding out on the case. I was able to support the mobo firmly by some plastic on the right middle, and bring it to the edge of the table and press down on the plastic covered area to get it to mess up. Even a small amount of pressure on the top right corner of the chip alleviated this.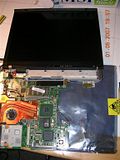 Notice that you can have every component off the board besides the ram, proc, and monitor and it will work fine. Just be sure to WEAR A STATIC BAND!
Be careful when you remove the connectors, I pried this one to hard and had to resolder it.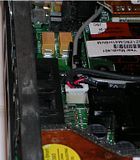 Now, go to a cooking store and buy a digital thermometer made for the stove with a probe that can read up to 450 degrees. Fix that near the chip, but make sure it's not putting pressure on any nearby components because you don't want them to move when it get's hot.
I didn't use a piece of solder on the top of the chip because when I tested this on the modem, as soon as it formed a ball it went flying! So I choose the ground to the bottom right of the chip. I put a little flux on it and soldered the base, then built up some solder into a cone shape, when the air got hot enough, the cone formed into a ball, but stayed stuck right in it's spot on the soldered ground.
With my heat gun on low, after heating up the rest of the board. I could reach around 180ish doing small circles over the video card. If I switched it to high the blob would instantly melt and I would need to pull the heat gun about a foot away from the board to maintain 180 temp. I found I had more control close up, but was afraid of the hot air blowing components away.
Insulate everything with foil and peel off any surrounding plastic. I found that just curling some foil over the little plastic connector kept it plenty cool. This pic is from my first unsuccessful run, later, I cover everything but the video chip.
I cannot stress how important it is to have a digital thermometer in there! All in all, I probably had this thing up to 215 C for about 15-20 seconds and it works fine now.
When you are done, you can test without putting the board all the way back together, and try again if you need to. I left the temp gauge on it and let it cool to about 100F before I started stress tests again. Also, DON'T forget the white plastic lining on some of the chips if you took it off. This can short out your board or at least stop it from powering on.
I also put some support in the case under the keyboard by tearing up strips of shipping label paper and folding it, sticky side out. It took three stacks of these to make it the right height so that the spacebar would not stick. Be very careful with the positioning, you don't want your ribbon cable to melt on the video card, and you don't want it to be tight or twisted by the pressure, causing premature wear.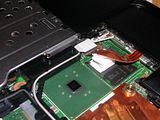 Sorry this is long and not very well structured, I'm tired from being up all night playing with my new toy
Note from Moderator:
No warning in the subject line = no images. Links only.
[edit] sorry, new here. I just checked the faq and searched the forum. i saw nothing about this in the faq, but i was able to find you posting the same thing in other threads with some added info about 50k size and such. Is this better?