This thread is a multi-part review.
Part 1 (CardBus-USB2) can be found
here
.
Part 2 (ExpressCard-USB3) can be found
here
.
Part 3 (SD/SDHC/SDXC) can be found
here
.
Part 4 (CompactFlash) can be found
here
.
Part 5 (USB3 revisited) can be found
here
.
While not as popular as USB, the eSATA standard has some appeal for external storage connection. In some situations it may perform better and/or with lower CPU usage. It also allows existing SATA drives to be plugged directly as external drives, without the need for any converters – merely a SATA or SATA-to-eSATA cable, and a power cable (2.5" drives can feed directly off an extra USB connection, but 3.5" will need an external power adapter).
eSATA adapters exist in both CardBus and ExpressCard form factors, which means they can be used for both new and old laptops. In this review I've decided to test a few ExpressCard eSATA adapters, and compare them to other alternatives, such as: onboard laptop SATA controllers, eSATA chassis ports on laptops (when available) and Ultrabay hard drive caddies.
Acknowledgment:


This review was made possible, in part, due to the generous contribution of my good friend, and a member of this forum - loyukfai - who sent me, free of charge, the eSATA to SATA+USB data/power cable, as well as the CardBus adapter.
Test Equipment – Laptops
T60, T7200, Windows XP
Has a full-size 54mm ExpressCard slot, albeit running at Gen1 (2.5Gbps) PCI-Express, due to the limitation of the laptop chipset. Also has an Ultrabay Slim slot that can accommodate a hard drive (in a caddy). Overall, a good candidate to measure performance in an older system (hardware and software).
T410, i5-540M, Windows 7
Was chosen mostly due to the availability of the eSATA port on the chassis. Unfortunately, its ExpressCard slot is 34mm only, so 54mm cards could not be tested. The slot is also Gen1 (2.5Gbps).
X220, i7-2640M, Windows 7 / 8.1
This is a more modern machine, with a full-size 54mm Gen2 5Gbps ExpressCard slot. It should allow extracting the maximum possible performance out of the adapters under test. Furthermore, a Serial Ultrabay Slim hard drive caddy can be connected through the Ultrabase.
Test Equipment – ExpressCard adapters
All pictures can be clicked for larger versions.
AKE BC338 (34mm)
This is a single port eSATA controller, using the
JMicron JMB360
chip, which is PCIe 1.0 (2.5Gbps). Being single port, it fits nicely in the 34mm ExpressCard. The device ID is 197B:2360:02.
AKE BC418 (54mm)
Similar to the previous one, but a dual port controller, using
JMicron JMB363
(device ID 197B:2363:03). Two eSATA ports mean that the wider 54mm ExpressCard form factor had to be used. Apparently, this controller also supports a single PATA (IDE) channel, but obviously it was not implemented in the card.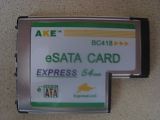 Left: BC338 (single-port JMB360). Right: BC418 (dual-port JMB363)
AKE eSATA + USB 3.0 (54mm)
This one is probably one of the more interesting cards. It is 54mm and sports both a USB 3.0 and an eSATA port. There is also a power input jack, which can route additional power from any USB port to the card (the cable usually comes included when you buy this card). This is only relevant to USB devices, as eSATA carries no power anyways.
The device appears to be the ASMedia
ASM1042 USB 3.0 controller
(PCI ID 1B21:1042:00), with the ASMedia
ASM1051 USB3-SATA bridge
(USB device 174C:5106:0001) connected to one of the USB ports, exposing a single eSATA. When no eSATA drive is connected, the Device Manager shows a "ASMT 2105 USB Device".
Routing the eSATA via the USB 3.0 controller raises some potential performance concerns, as USB is known to be not very efficient when transferring small blocks of data. On the other hand, compared to the PCIe 1.0
JMicron
controllers, this one is PCIe 2.0 (5Gbps), which means that the maximum throughput may be higher, at least in theory.
Test Equipment – Other Adapters
To get a frame of reference, I compared, when possible, the performance of the ExpressCard adapters to the following alternative connectivity options:
T60 Ultrabay Slim SATA caddy (connected to PATA/IDE channel in ICH7-M)
T410 eSATA port (SATA 3Gbps, QM57)
X220 internal hard drive (SATA 6Gbps, QM67)
X220 Serial Ultrabay Slim caddy (SATA 6Gbps, QM67)
I very much wanted to compare to the
AKE BC188 CardBus to SATA/eSATA adapter
(which uses a
VIA
chip). The interesting thing about this card is that it has one eSATA port and one regular SATA port, so you can connect using whatever cable you have available. However, the card I had appears to have malfunctioned shortly after I started testing. It would randomly not be recognized, or lock up the system (I tried a couple of T60 units and an X32), and even when it appeared to have worked normally, any drive connected to it would not be recognized, or, at best would be abnormally slow. Therefore this roundup will have to do without any CardBus representatives. These may be added in a later review.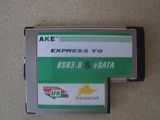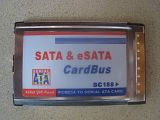 Left: AKE USB3+eSATA Adapter (ASMedia chip).
Right: AKE BC188 CardBus to SATA+eSATA Adapter (VIA chip).
Test Equipment – Hard Drives / Solid State Drives
The following drives participated in the test, covering a wide range of storage performance:
Hitachi HTS541612J9SA00 - 120GB 5400RPM
Western Digital WD32000BEKT - 320GB 7200RPM
Intel SSD 530 – SSDSC2BW480A4 - 480GB SSD
Methodology
The methodology was straightforward – each drive was connected using a SATA+power to eSATA+USB adapter cable (see picture). This cable connects the SATA to eSATA pins directly, and routes power to the drive from any free USB port. As such, the eSATA port needs not be powered (most of them are not). However, it can only be used with 2.5" drives, which can be powered solely off the 5V supply of a single USB port. 3.5" drives would require a separate power adapter with 12V output.
The only test utility I ran is CrystalDiskMark, using all 4 of its built-in tests: 1000MB sequential access, 512K blocks, 4K blocks and 4K blocks with 32 requests per queue (4K-QD32). Granted, it may not cover the full range of test scenarios, but it allowed me to run the tests easily and quickly, and still receive a good basis of comparison.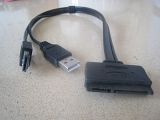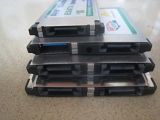 Left: eSATA + USB (power) to SATA + SATA power cable.
Right: Adapter stack. Top to bottom: BC338 (ExpressCard/34), AKE USB3&eSATA (ExpressCard/54), BC418 (ExpressCard/54), BC188 (CardBus).
Test results
All Results are in MB/s (megabytes per second)
5400RPM hard drive – Hitachi HTS541612J9SA00
System:
T60, T7200, XP SP3 x86
7200RPM hard drive – Western Digital WD32000BEKT
System 1:
T60, T7200, XP SP3 x86
System 2:
X220, i7-2640M, Win7 x64
System 3:
T410, i5-540M, Win7 x64
BC338
ExpressCard adapter. Other adapters could not be tested in the T410, as it only has a 34mm slot.
Overall, we can see that when it comes to rotational hard drives, there are no measurable advantages to SATA3 over SATA2, nor to PCIe 2.0 over PCIe 1.0.
SSD – Intel 530 SSDSC2BW480A4
System 1:
T60, T7200, XP SP3 x86
System 2:
T410, i5-540M, Win7 x64
JMicron
). Even though the latter also officially claims SATA2, and even though PCIe 1.0 theoretically provides 2.5Gb/s for the ExpressCard – in practice we see speeds around 1Gb/s – barely under the practical ability of SATA1.
Reflecting on the results of the T60, it appears that the adapters bottleneck more than the system – as the T60 showed nearly identical results with the
BC338
. The exception is the QD32 performance, which gets a huge boost on the T410.
I suspect that the driver is the culprit here. The T410 with Win7 uses the standard Microsoft AHCI driver, but the T60 with WinXP had to use vendor-specific driver (by
JMicron
), which probably does not support AHCI (or does not enable it).
System 3a:
X220, i7-2640M, Win7 x64
One exception is the
ASMedia eSATA/USB3 card
, which enjoys a bigger boost in sequential speeds. That is because, unlike the
JMicron
adapters, which are PCIe 1.0, this one is PCIe 2.0, and so is the X220. However, the deficiency of USB versus ATA remains evident in the 4K-QD32 benchmark.
System 3b:
X220, i7-2640M, Win8.1 x64
The performance in the internal drive bay versus the Ultrabay is also practically equal, which is not surprising – they are just different ports of the same Intel chipset SATA controller. The low results of the QD32 benchmark with the internal bay are due to the fact that the controller was switched to IDE mode for this test (the OS on the SSD refused to boot otherwise).
Boot support
In short – none of the ExpressCards could be booted from in any of the Thinkpads in this roundup. This is commonly believed to be
a limitation of the BIOS
(lacking the proper option ROMs), and not of the controller itself. This theory is supported by the fact that certain Macbooks are known to
support booting from the BC338 ExpressCard
.
Physical characteristics
These particular cards were chosen for the roundup due to being flush-mount, i.e., you can leave them permanently inserted into the laptop ExpressCard slot, without them sticking out. However, as is the case with other
AKE
cards (see Part 2 of the series, about USB3 ExpressCard adapters), the 54mm cards are a bit shorter than the 34mm variants. This means that the 34mm card will stick out just a bit in shallow slots (such as the T60), but the worse part is that the 54mm cards will be a little sunken in deep slots (such as the X220). This can cause two problems – difficulty plugging in certain devices (more of an issue with USB than with eSATA, as the latter almost always uses a cable), and difficulty unplugging the card, especially in leverless ExpressCard slots such as those present on T410 and X220.
In fact, during the preparation of this review, I routinely got the
BC418
adapter stuck inside the X220 slot, to the point of needing pliers to extract it. Not a big deal if you intend to have the card in the slot all the time, but something to keep in mind. With that said, it is likely just as much a fault of the slot as of the card. In that sense, the T60 ExpressCard slot, with an integrated lever, is of noticeably higher quality and much easier to operate.
All of the cards are pretty flimsy, with very thin aluminium casing, although it is more evident in the larger 54mm variants. The
USB3/eSATA
adapter, in particular, lacks the support bracket between the power jack and the eSATA port, making the plastic there feel like it's going to fall off (to be fair, it did not actually fall off).
In other words – you get what you pay for. The
AKE
cards are traditionally very cheap ($10-15, versus what can be $30 or $50 from name brands for a card with the same controller), so build quality is expected to be sacrificed. However, they still remain usable, and as I did not compare them side-by-side to the more expensive adapters, I cannot say whether there really is a difference in quality, and if so – how noticeable it is.
Conclusion
So – are these eSATA adapters good or bad? Well, with the exception of the CardBus adapter which broke down and had to be excluded from most tests, I would say they are OK. They typically work well and are stable. I have not encountered issues with drives not detected, or connection dropping during transfer, or any kind of data corruption. They are highly compatible with basically any laptop that has an ExpressCard slot.
Performance-wise – they are disappointing. Advertised as SATA2, the actual speeds are more like SATA1. This means they severely bottleneck any SSD, and probably even fast rotational drives. With that said, for connecting external storage they will probably suffice, as such storage is typically not very fast.
The
USB3/eSATA
combo card is an interesting beast. Being PCIe 2.0, it actually outperforms the others when it comes to sequential access, especially under Windows 8.x with the optimized USB3 stack. However, in small file copying as well as concurrent access, it falls significantly behind, due to inherent limitations of USB protocol versus ATA protocol (this is evident from the 4K and 4K-QD32 benchmarks).
For good concurrent performance, it is important to run the controllers in AHCI mode (relevant only to the native SATA controllers, not the USB3-SATA bridge). The built-in MS AHCI drivers in Win7/Win8.1 seem to handle it natively. The
JMicron
drivers on Windows XP apparently do not, although I did not investigate in depth to see if it can be enabled somehow.
It all comes down to what you plan to connect through eSATA. For fast flash-based storage, it would be better to use a native eSATA port via the Intel chipset (whether on the laptop chassis or via an expansion dock). However, if neither is available, and you must resort to an ExpressCard solution – one of the native SATA controllers is better, because of better concurrent thread performance with small files.
For a standard mechanical drive, the difference may not be as noticeable. In fact, since mechanical drives suffer from terrible speed in small file access in any case, the
ASMedia USB/eSATA
combo card may actually be preferred because of the higher sequential speeds. Plus you get USB3 as well. It may be a very convenient solution for laptops lacking either port, such as early T-series, X200/X201 or X220 with i3/i5 CPUs.
The single port
BC338
is a good solution only if your ExpressCard slot is 34mm. The only Thinkpads I can think of, which have ExpressCard/34 but not native eSATA, are the L and Edge series.
The dual port
BC418
is a good solution if you only need eSATA, not USB3 and/or want more than one SATA port. It also performs a bit better than the
BC338
in most cases (although I wouldn't expect great speeds accessing two drives at the same time).