Those amongst you who follow my posts are familiar with the SATA-modded 15" T43p that serves as my main machine...described here:
http://forum.thinkpads.com/viewtopic.php?f=21&t=103941
Taken as far as it can possibly be when it comes to upgrades, right?
Not quite.
What's this guy up to now for crying out loud?
How about an upgrade to a LED-lit AFFS FlexView LCD?
Think I'm kidding? Think again.
Since this is a T4x forum I'll only post two pictures...to open the appetite of the fellow forum members for an upcoming more detailed post...in the "Post the picture..." area...
...sometime later today/tonight...
The other ThinkPad in the picture is my trusty old A31p, with a conventional CCFL-lit ID Tech UXGA FlexView LCD. The oldtimer (which I'm typing on right now, falling in love with it all over again) is by no means equipped with a dim screen - those who know me are well aware that I have no tolerance for this type of imperfection - but actually a slightly-above-average panel when it comes to brightness...although these pictures would have you believe differently...
Both units are running with LCDs on maximum brightness, with an AC adapter plugged in.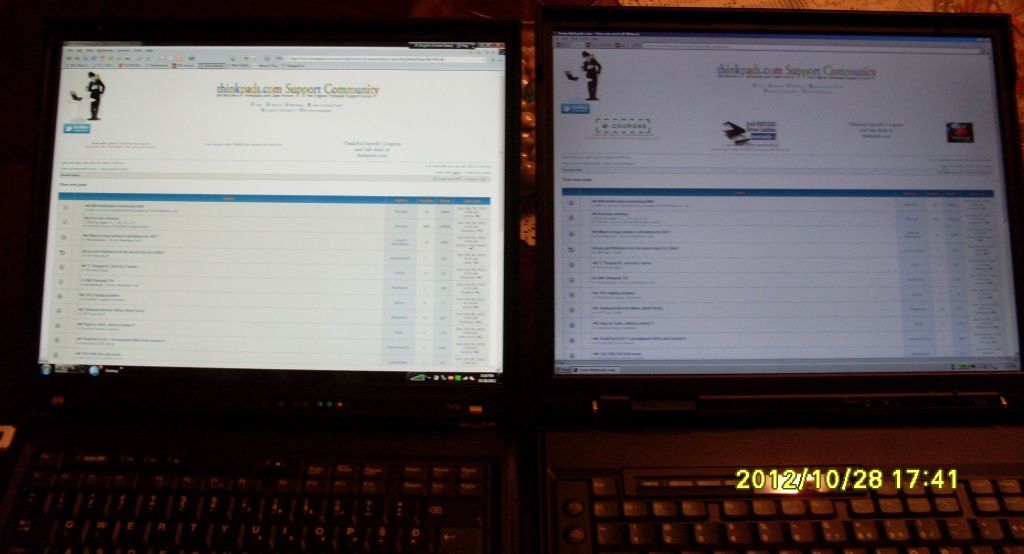 More to follow, stay tuned...