Escaped from the deviant mind of yours truly and
RealBlackStuff
's secret lab that is guarded by Cerberus himself...
it's alive
...
Please disregard the date...never set it up on the blasted camera...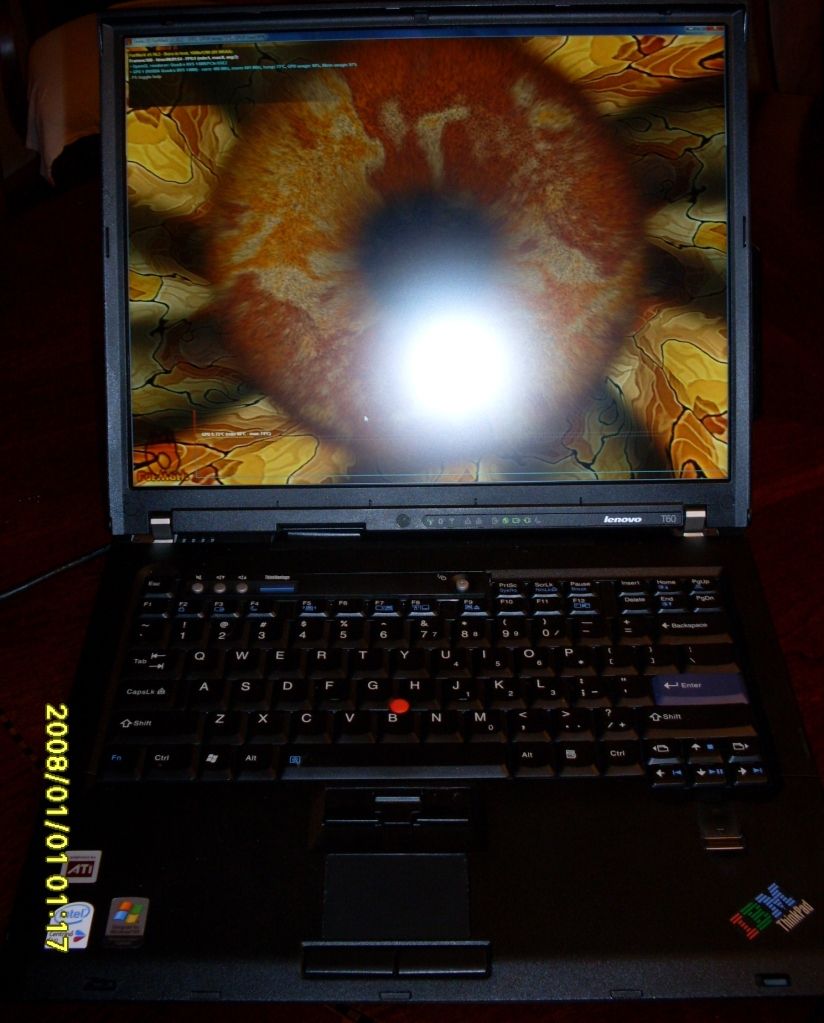 FrankenPad T601FL
T9500 Core 2 Duo Penryn CPU
8GB RAM
15" UXGA (1600x1200) AFFS FlexView
LED
LCD
nVidia NVS140M GPU
DVD RW multiburner
256GB Crucial M4 SSD
Atheros abgn wireless card
Verizon WWAN
Bluetooth
NO MODEM
Gigabit Ethernet
UltraNav
Security Chip
Fingerprint reader
Middleton's BIOS
Win 7 Pro 64-bit
Dare to compare? A screen that beats *any* LCD in 4:3 format...
this is how it stands against a brand new (NOS) LG Philips SXGA+ FlexView LCD...do bear in mind that the resolutions are different:
the strongest competitor when it comes to image quality is A31p with its ancient-but-still-stunning ID Tech/DBU UXGA FlexView panel: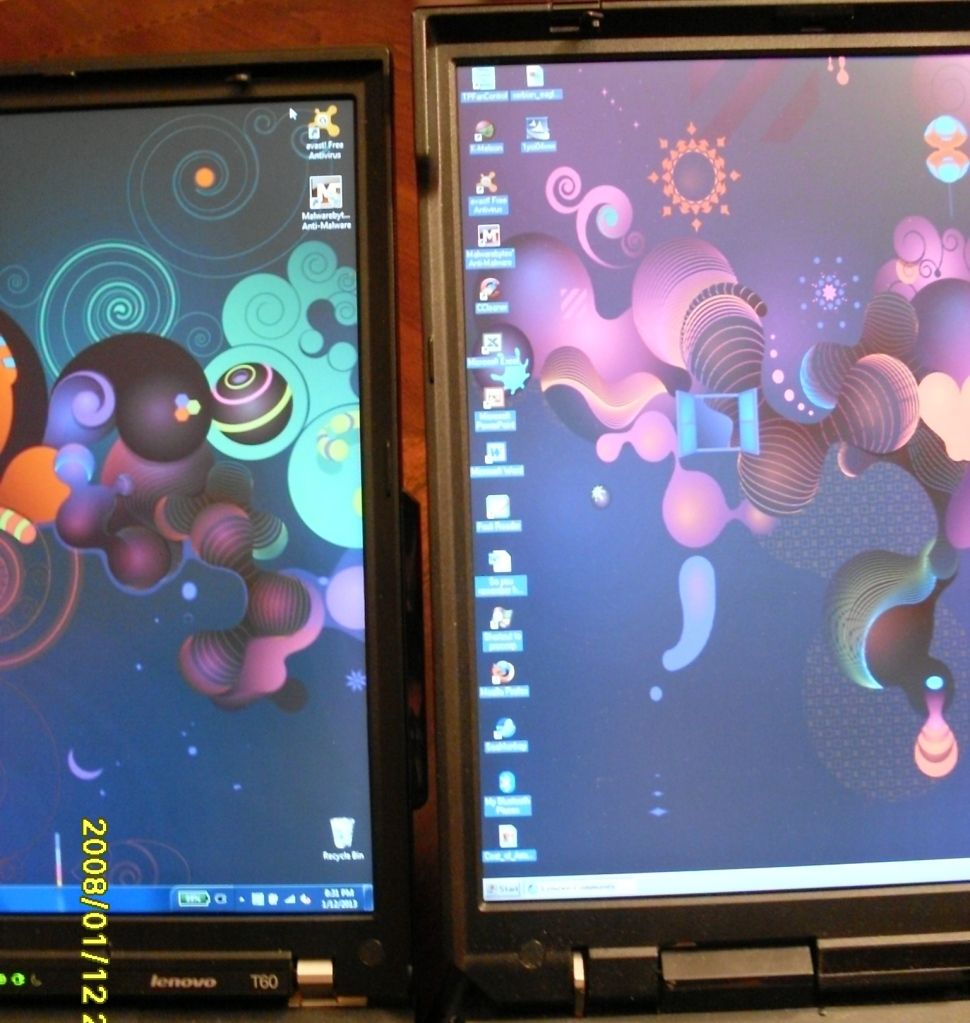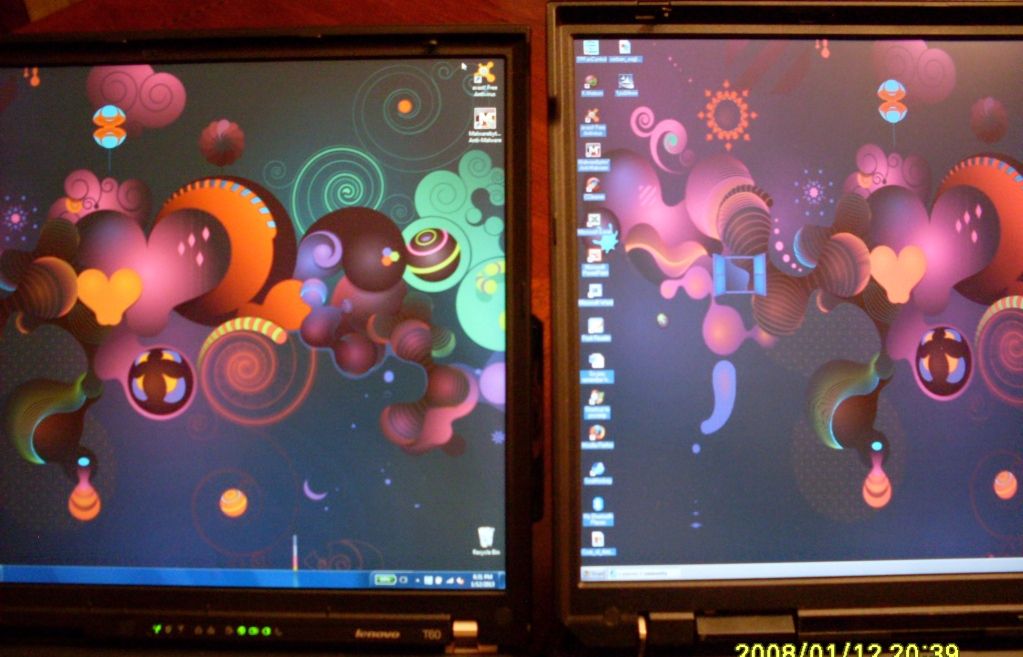 However, while very bright in its own right, the original FlexView LCD is no match for its LED AFFS grandchild...
Should I even bother with comparisons involving TN panels found on ThinkPads?
Against my daughter's 14" SXGA+ T60, purposely shot with no flash in dark conditions:
and with the lights on: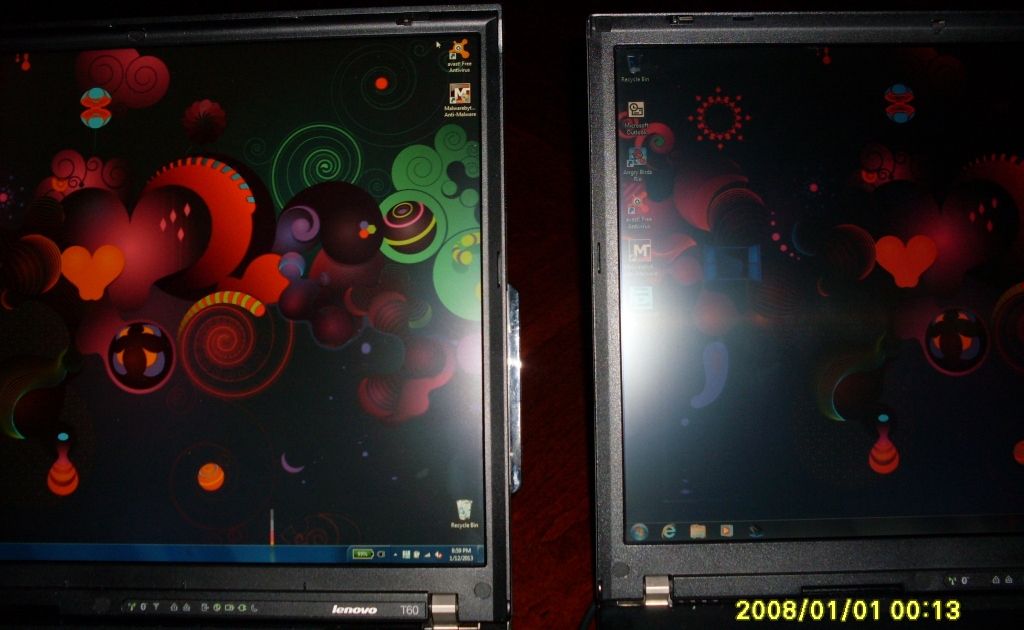 We also have a R60e that is awaiting conversion to an IPS panel, so let's abuse its poor 15" XGA screen:

Another "dark" picture...
Not surprisingly, the best looking TN panel once again proves to be the WSXGA+ one from my wife's Z61m: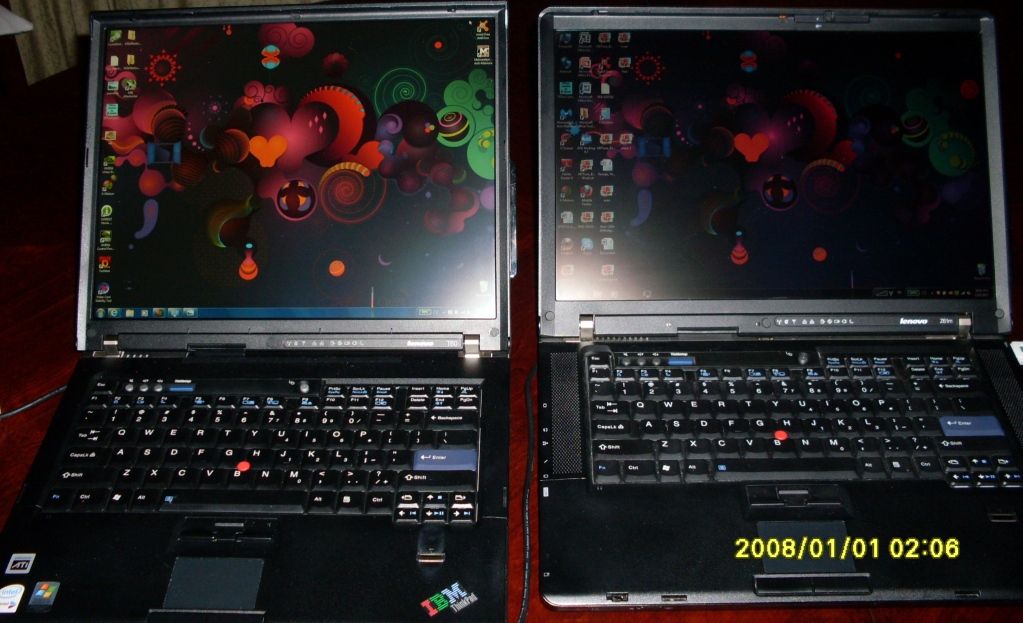 Until one starts evaluating viewing angles, that is...

Now, take a good look at the brightness comparison with both panels at max: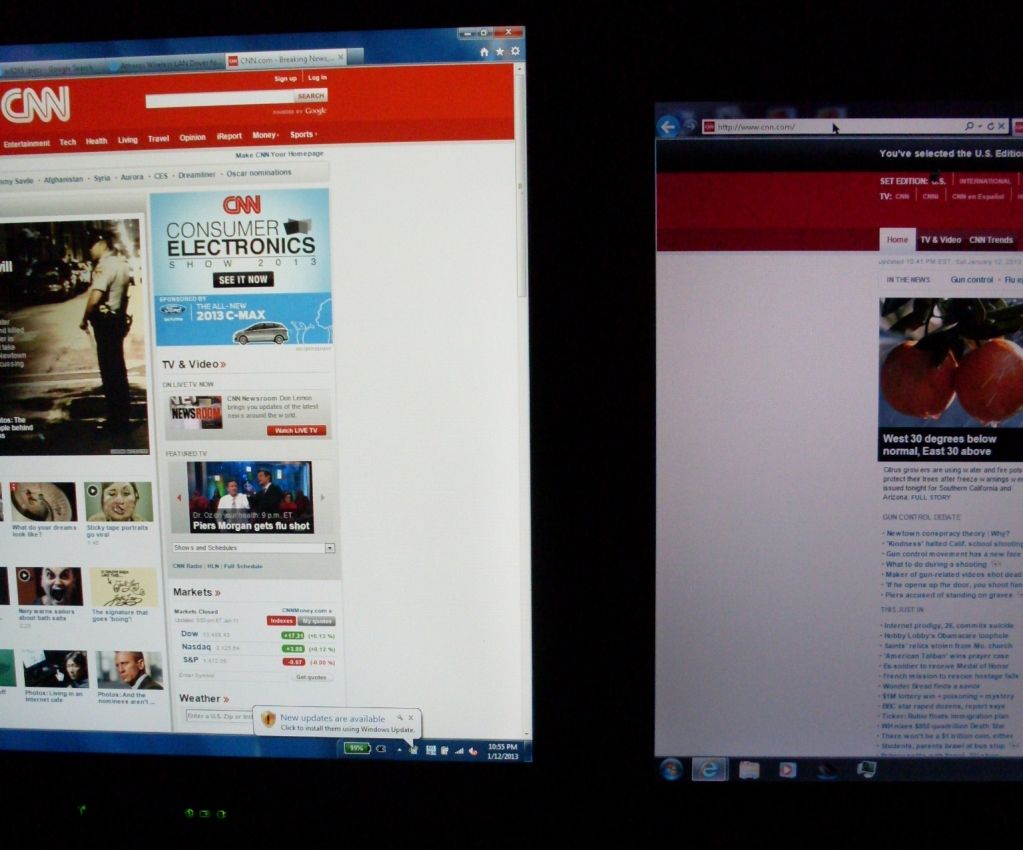 To even out the brightness, I had to tone down the LED panel all the way to 2, while the Z61m's LG screen is still at maximum: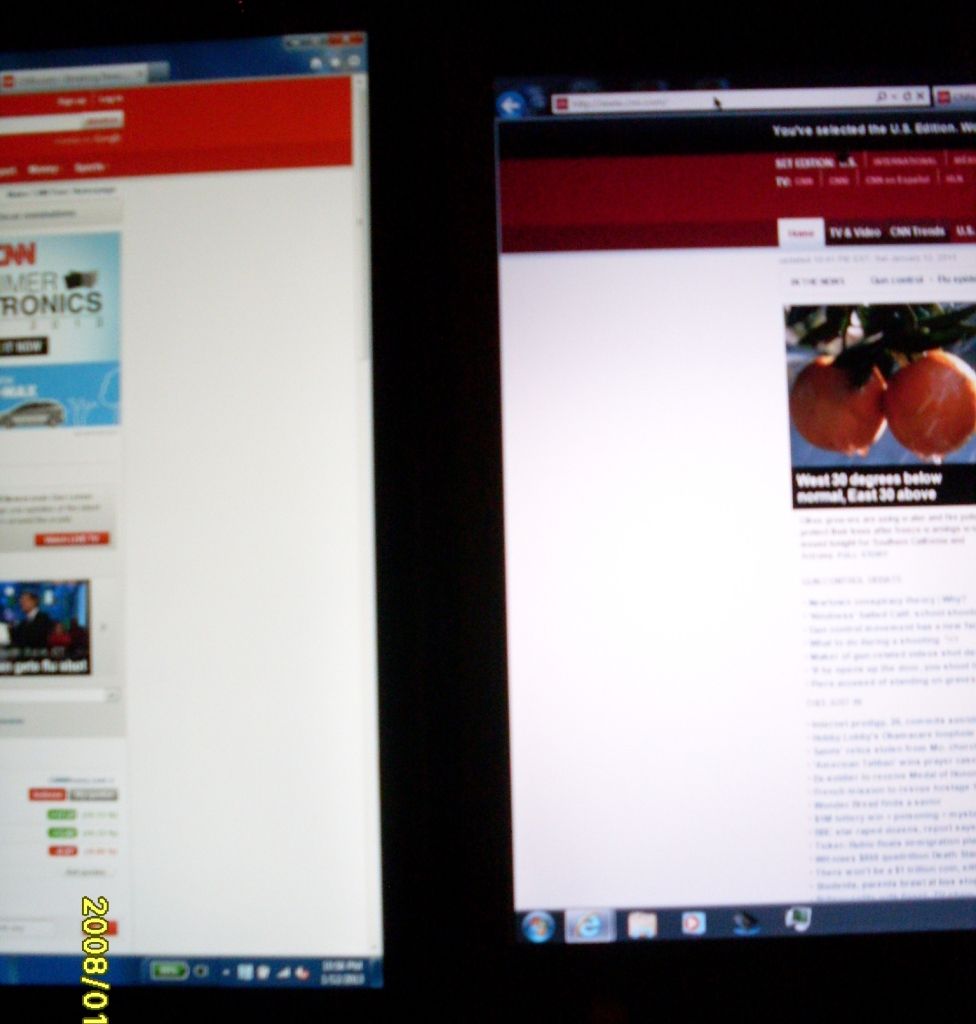 CYNIC'S CORNER - Q & A section:
Q
:
Heh, how can this be an ultimate 4:3 FrankenPad? You need a X9000/FX570M combo for that title...
A
:
While I'll admit that there were times when I was financially better off than I currently am, there's still no need to make my kids' breakfast on the heatsink of any laptop...yes, I have considered the aforementioned option but decided against it since cooling could very well prove to be inadequate...and that's not something I'm willing to play with.
Q
:
An ultimate FrankenPad sporting a likely-defective nVidia GPU? You can't be serious...
A
:
While I'm well-aware of the risks involving said chips, I was interested in building a machine that would present a real upgrade from my modded T43p, and an Intel-based board would simply not meet that requirement...the planar used in this FrankenPad came from a late (March of 2008) one-owner-well-kept Penryn unit and I'm fairly confident that it will survive my habits...no overclocking, no gaming, no sleep...it has survived 72 hours of Furmark without the GPU temp going over 70 degrees C, so my hopes are high indeed...
Q
:
An ultimate 4:3 laptop? Panasonic CF-31 with Core i CPU will run circles around your T9500, not to mention that it has screen brightness of over 1000 nits...
A
:
Yes, I'm quite familiar with CF-31 given the fact that it's my latest company-issued laptop, and I'm actually quite fond of it. That being said, its screen has little to offer apart from sheer brightness, not to mention the fact that XGA resolution on a 13.3" panel fails to even begin to qualify as serious, at least in my book...there are many fine virtues to CF-31, but it was built to be the ultimate 4:3 *utility* laptop, and not an everyday workstation-class machine...which is what I was aiming for...
Don't forget that
RBS
offers this LED upgrade for T6x/R6x series on regular basis, so if you like what you see, feel free to PM him...
I might post some more pictures tomorrow, but it's very late where I am right now, and it has been a loooooooong day...
I'm interested in comments and open to constructive criticism...