This post has been in the making for the longest time...
To be fair and balanced (no, I don't work for FOX...
) I wanted to compare as-new-as-possible conventional CCFL Hydis panel with a brand new LED one, on somewhat similar machines...well, that time has finally come.
Two units shown in pictures are my own T601NFL on the left, and my brother-in-law's T60p (2007-92U) which received a proper NOS Hydis panel when these were last available about a year or so ago. The latter machine spends most of its life docked and connected to a *huge* Panasonic (also IPS) TV...so its screen is likely to be as good as one can find nowadays...
None of these LCDs were ever calibrated, and both of them use the ancient "tpflex" monitor profile dating back to the days of A30p....
Given that the NFL is running a 64-bit version of W7 Pro on FX570M while 92U is sporting a 32-bit version of the same OS on ATi V5200, some subtle differences are to be expected. However, these would really matter if one were dealing with a competent photographer which yours truly most certainly isn't...
Both screens at maximum brightness, AC power only with battery removed: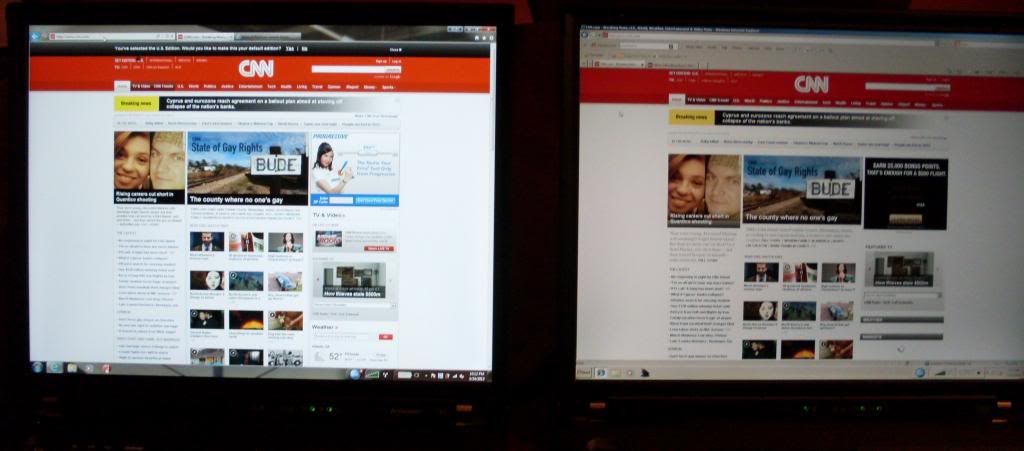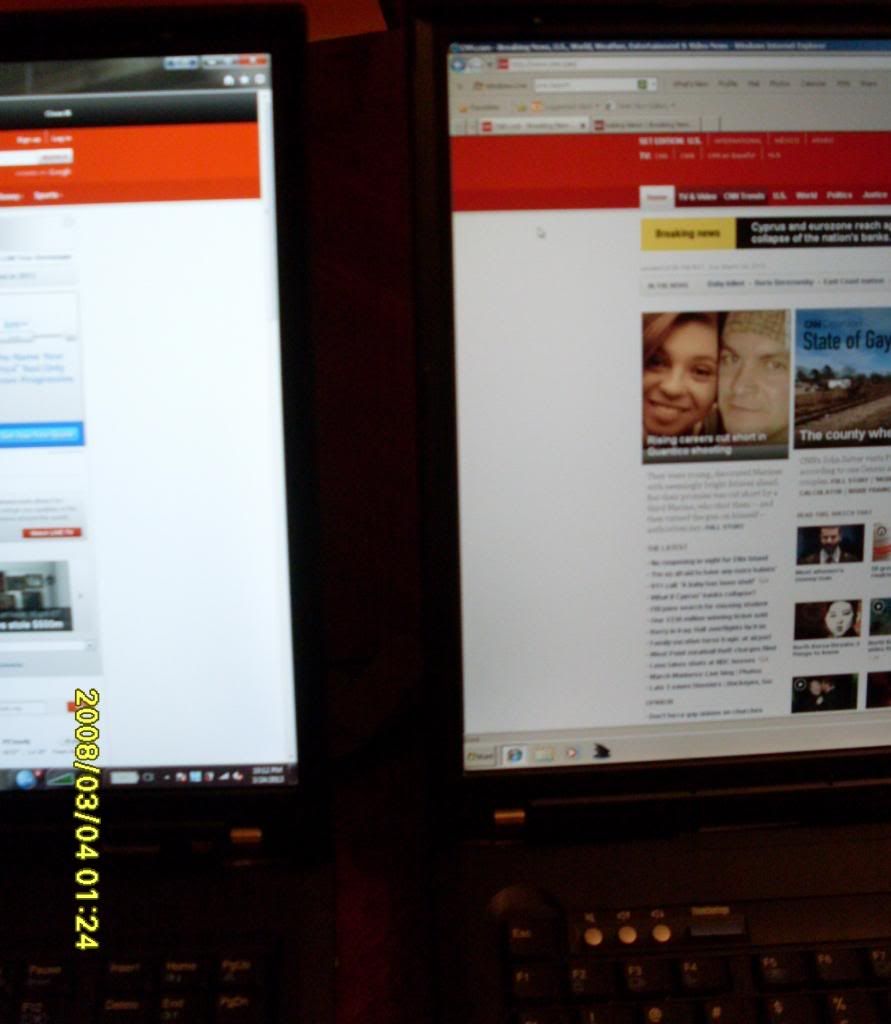 The difference in brightness needs no further elaborating. As for the colours, the LED panel seems to display them in lighter and somewhat more "aggressive" (for a lack of better word) spectrum.
Now, what happens when we dim the LED panel to match the full brightness of the CCFL one? For this part, I had to go all the way down to 5 (out of 15) on the NFL: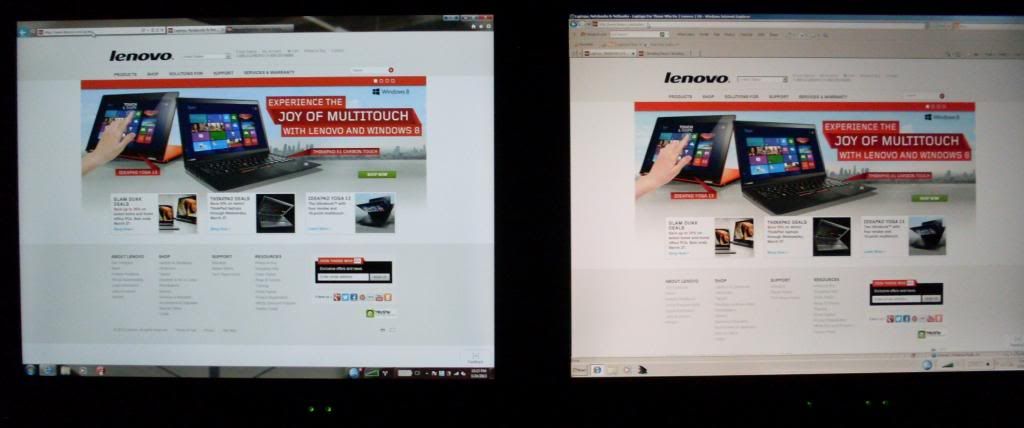 The colour reproduction suddenly becomes a very close contest, as seen above...
Now, how about viewing angles, that's what one buys an IPS/AFFS screen in the first place in most cases, right?

Obviously, no clear winner in this contest - both the "old" and the "new" LCD offer viewing angles that are nothing short of excellent.
Now, how dim can you make it?
Just in case that I need to state the obvious, it's rather difficult to take a semi-decent picture of a dimmed-down screen...but yes, the LED panel remains a little bit brighter even when toned down all the way...
So what's the conclusion?
Once again, let's begin by underlining the fact that is beyond dispute: both of these panels are of exceptional quality.
The only two major differences, as seen above, would be:
a) One can make the LED panel dim enough to reach the "standard" CCFL levels, but not the other way around.
b) The expected longevity of a LED panel should be superior by a pretty high margin to the one of a comparable CCFL LCD.
I was sold on these new Hydis LED panels the first time I saw one in action. It felt like finally seeing the screen that the T62 range should've shipped with, but never did.
Experience of having two different top-notch panels side-by-side was an exilarating one as well.
However, if I absolutely had to choose just one as a screen that I'd be using for the next five years, it would be the LED panel.
Hmmm...I already made that choice a while ago, didn't I?
http://forum.thinkpads.com/viewtopic.php?f=21&t=107072
Now, some not-so-good news...
It would seem that I'm far from being the only one who has figured out how vastly superior these screens are compared to any other non-DC panel, since they disappeared off the market and are nowhere to be found at
any
figure that would remotely resemble a reasonable price...
If you're interested in having a FrankenPad with one of these screens built, I'd *
highly
* recommend reaching out to
RealBlackStuff
- and fast - since his stock of LED LCDs is just about done with...
Questions and comments are welcomed and appreciated, as always.