Apologies if there's already a thread like this. I searched but did not see one. Maybe I did not look hard enough.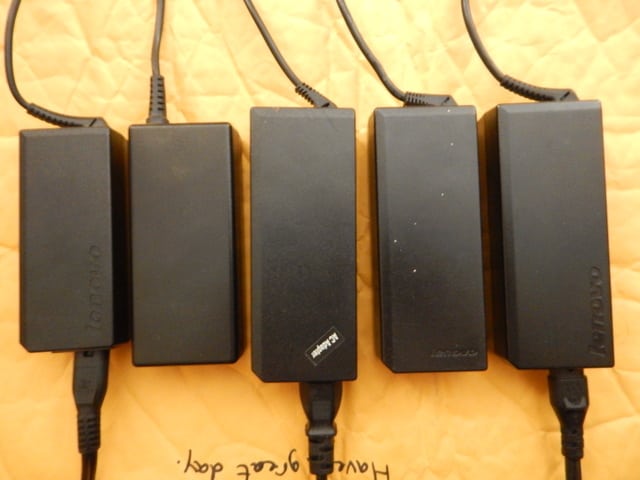 One of the most integral parts of a laptop: the power supply. It charges your battery and gives life to your computer. There are Good power supplies, the Genuine Lenovo parts that are weighty, diverse, and resilient. Then there are the Evil power supplies, Fake parts who pretend to be what they are not, luckily I don't have any. Then there are just the aftermarket ones that are blatantly aftermarket, they're not fooling anyone to their inferiority. Used Genuine 90W and 65W adapters are super cheap right now on Ebay, around $8 for a 65W and $10 for a 90W, give or take a few, make a best offer here or there. For most efficient results buy used Genuine.
Manufacturers of genuine Lenovo AC adapters include Chicony, Delta, Astec, Liteon, and Hipro, and some others. Differences between the manufacturers are minimal to none. The appearance of the AC adapters also changed over the years. The biggest difference can be found in the size, color, and position of the Lenovo badging, but it's not an identifier of who manufactured what, rather its a sign of
when
they were manufactured. You're better off just reading the date stamp on the bottom than thinking about the badges too much. A smaller difference is the plastic interface between the power brick and the tip-side of the cord - it can vary in size and shape even on the Genuines.
There are also two versions of the barrel tip models in which the shape of the barrel-extension differs. Older models have a smaller barrel-extension, while newer models have a longer and less-flexible barrel-extension to mitigate wear and damage to the cord. I've made repairs to two old-style adapters where the cords frayed out due to wear at the barrel-extension.
So if you bought old Thinkpads new, or collect used Thinkpads now, you can get a variety of different looking Genuine Lenovo AC adapters. According to Lenovo Parts Lookup, my 93P5026 with a 2007.03 date stamp, small badging, small cord interface, and old tip is a LiteOn. I also have a 2012 65W, and a 2010 90W with large badges and new tips. I believe the change to
large badges and stronger tips
occurred in 2010, with the introduction of the T400s.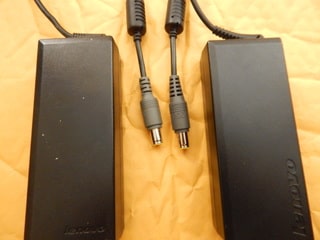 Left: Old barrel 90W
Right: New barrel 90W
I also had a new barrel 90W with a small badge.
Most interesting is this 2006 "AC/DC" adapter with a Thinkpad logo:
http://i.ebayimg.com/images/g/PEsAAOSw3 ... -l1600.jpg
If they had Thinkpad logos, could they ever have had IBM logos?
There's also this 2008 T61 power brick with a printed logo:
http://i.ebayimg.com/images/g/eRkAAOSwE ... -l1600.jpg
My sister's T500 uses one of these.
Lastly, in 2013, with the **30 line, Lenovo made the 90W brick bigger and gave it rounded corners. Looks like this:
http://i.ebayimg.com/images/g/jGMAAOSw9 ... -l1600.jpg
I also have one like this.
I have also seen some rare IBM-badged Lenovo 90W AC adapters on Ebay and I was tempted to buy one for the sake of the IBM badge. I presume they must be, like the 2006 "AC/DC" adapter, from the Z60m era. Shame I didn't save a picture then. Lenovo Parts lookup gives me a generic picture when I put in my Z60m's SN. Or were they just well-crafted fakes?
Genuine v. Generic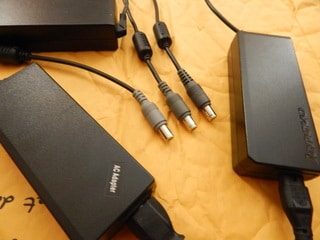 This benign Generic just says, "AC Adapter." At least it's not pretending to be Genuine. It says "Replacement" on the bottom. It has decent weight, but not as heavy as a real one. You can see the tip is shaped like the old style but is the wrong color: a sickly light gray. The cord is also shorter and the whole thing smells like death.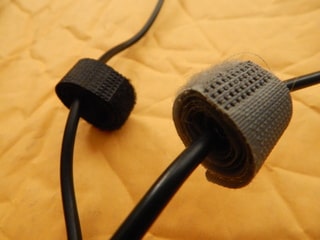 The fastener is black on Generics (left) and stone gray on Genuine adapters (right). It also tends to fall off the Generic ones.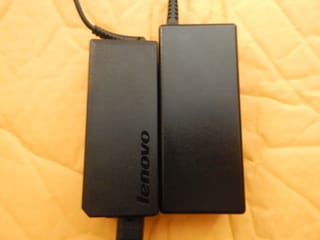 Now here's a 65W Genuine next to the cheapest Generic 65W you can buy on Ebay. This Generic doesn't look at all like the real thing. It's incredibly lightweight, because it's brainless and gutless. It gets hot, its smelly, and the cords are super short. Don't buy it. It's physically larger than the genuine 65W
https://s16.postimg.cc/m4q6xkob9/DSCN4272.jpg
and the tip is the wrong color.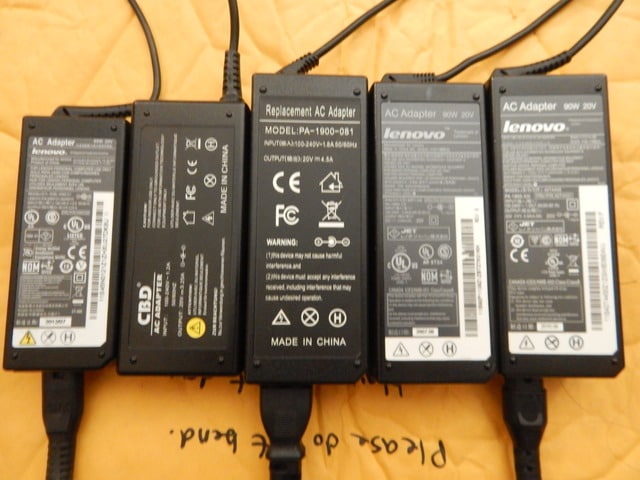 I wonder which ones are the genuine ones.