I just bought a 20.8" 2048x1536 (QXGA) LCD monitor and love it! At a pixel density of 123.1 per inch, it's far easier on the eyes than the 15.0" QXGA screen on my R50p and T43p (170.7 DPI). The viewing angle is amazing, so I believe it's IPS. It's pretty old though, probably 6 or 7 years, so the image isn't as crisp as my Dell 2407WFP. Also, I have tested my R50p and T43p as well as a friend's T60 via VGA (this monitor doesn't have DVI) and none of them can drive it at the native resolution, which is kind of disappointing. All three are capable of sending out 2048x1536 but in virtual screen mode so that only 1600x1200 is really shown on the monitor and to see the rest I have to scroll. So I'm using it with my Compaq desktop computer instead, which gets the LCD to display 2048x1536 properly. Here's a photo of this external monitor hooked up to this Compaq desktop sitting next to my R50p, both showing this forum in a 1280x960 web browser: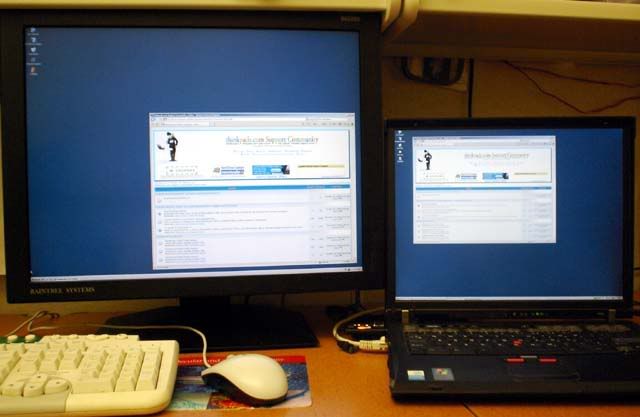 These external QXGA LCD monitors are extremely hard to find because they were made only briefly several years back. Virtually all QXGA monitors on eBay are either CRTs or greyscale LCDs. This particular one is a very obscure model -- Raintree Systems IN2080. More info about it can be found on
this site
.
I highly recommend you to get one of these if you come across a reasonably priced one on eBay. It's an excellent balance between getting lots of real estate on a screen and saving space on your desk. I got lucky with this one and it cost me only $133 shipped.