Realized that I now have 5 laptops in my apartment. A bit unusual, but before I sold the T60 2623-D3U there were six, so I guess it can be worse.
And, surprise, surprise, not all of them are Thinkpads.
Here is a picture of the pack, from shortest to tallest.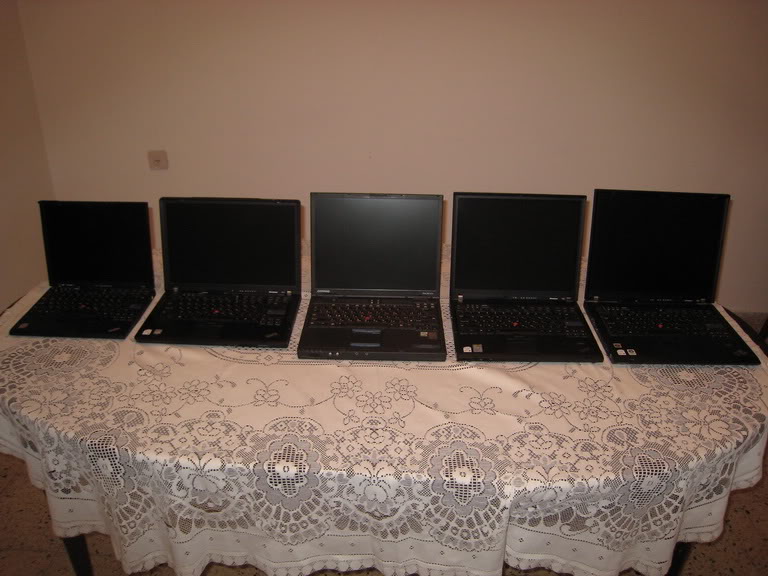 Can you guess which is which without looking?
Highlight this line to see the answer:
X61, Z61t, Compaq Evo N610c, T60 14", T60 15"
Well, it's not hard to see who the odd one is, so let's focus on him, shall we: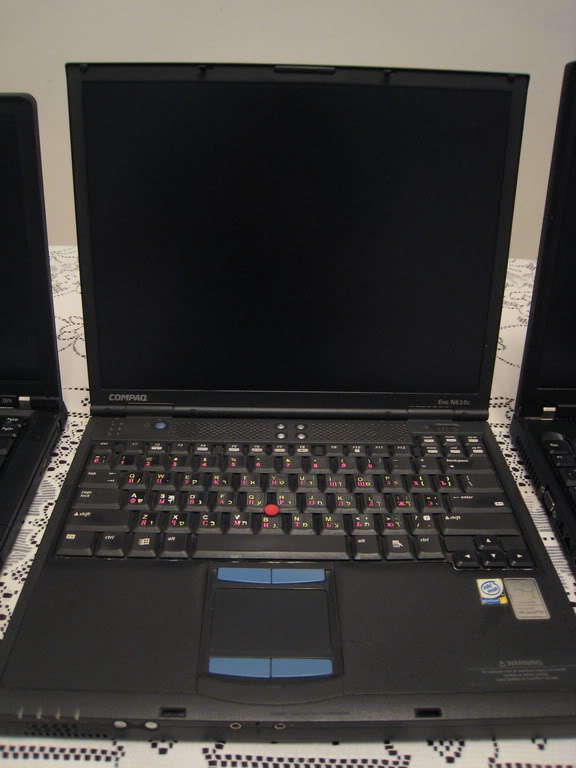 The laptop is a Compaq Evo N610c, it is one of Compaq's last business models, before they were acquired by HP.
In terms of exterior, this laptop would get the title of
the closest thing to a Thinkpad that's not a Thinkpad
.
1) Classic black square look (except the right side of the LCD lid, we'll get to that). Dimension-wise it is almost exactly like a 14.1" T60 (just a bit smaller in width/height, but a bit thicker).
2) Trackpoint + Touchpad. Incidentally, it came out around the same time as the T30, which was the first Thinkpad to have a touchpad.
3) Synaptics trackpoint that can be equipped with a Thinkpad cap! That's a soft rim there, which is infinitely better than the small shallow rough black cap originally installed on it.
4) Keyboard layout identical to a Thinkpad. Not just the six navigation keys at the top right, but the very fact that the Fn key is to the left of the Ctrl! That's the only non-Thinkpad I've ever seen with such a feature.
Hardware-wise it is a Pentium 4-M, 1.8GHz Northwood, with a DVD-ROM drive, 512MB RAM (originally 256MB), 80GB 5400RPM drive (originally 30GB 4200RPM), Radeon 7500 and an XGA LCD. This one doesn't have WiFi, so I use a PCMCIA card (not pictured).
Not the beefiest of configurations, but beats the T30 in one thing -
USB 2.0.
The T30 probably wouldn't be considered the failure it is if it actually had USB2.
The battery on it is 100% dead, the trackpoint buttons are worn out and not functioning, so it's been used as a pure desktop replacement for internet at my parents' place for the past 2-3 years. I could get a new battery or at least a new set of buttons, but my folks don't care enough for that, they are perfectly happy with it the way it is without the need to spend money.
There are a couple of things I love about this laptop: 1) It's very modular and easy to disassemble, clean and upgrade. Easier than any Thinkpad.
1) Removable drive bay (I have a DVD drive and a floppy drive for it).
2) Both RAM slots are directly underneath the left palmrest. Accessible without the need to remove a single screw.
3) Touchpad+buttons can be removed without needing to unscrew anything (just lift the memory slot cover).
4) Keyboard removed with the help of a single screw. And in fact, I just tossed that screw away, and can now remove the keyboard just by sliding the four latches at the top. Once removed, you can access the CPU fan, the GPU and the Northbridge.
And a couple of things I really dislike.
1) Keyboard is flimsy. Flexes like hell.
2) RAM sticks directly underneath left palmrest - MAJOR heat issues.
3) This laptop is known as the "loud hard drive killer". It has the most terrible thermal design I've ever seen. Basically, the CPU is constantly hot, and the fan is always on and noisy. But that's one small problem. The bigger one - the hard drive is located right next to the CPU and GPU, and takes all the heat in the world.
It idles at 55C.
Which means - this laptop cooks its hard drives like there is no tomorrow.
The laptop is now about 6.5 years old, and the hard drive has just been replaced for the third time. Once under warranty, then when the warranty expired and the drive died again, I purchased an aftermarket drive, with a 3-year warranty, which has just been replaced under warranty. I feel kinda unfair towards WD that had to replace my drive, which died not because of any fault of its own, but because it's been stuck inside of this oven.
I stilll have like 1.5 years of warranty left. If I'm lucky, the next drive will die before this period is up, and then I'll get another year or so of life out of it. It's still a business-class model. I am sure that it can survive 5 more years, as long as you give it a new hard drive to chew on once in a while.
The keyboard, BTW, is not tri-lingual. Those are just stickers.
One final pic - the pack stacked.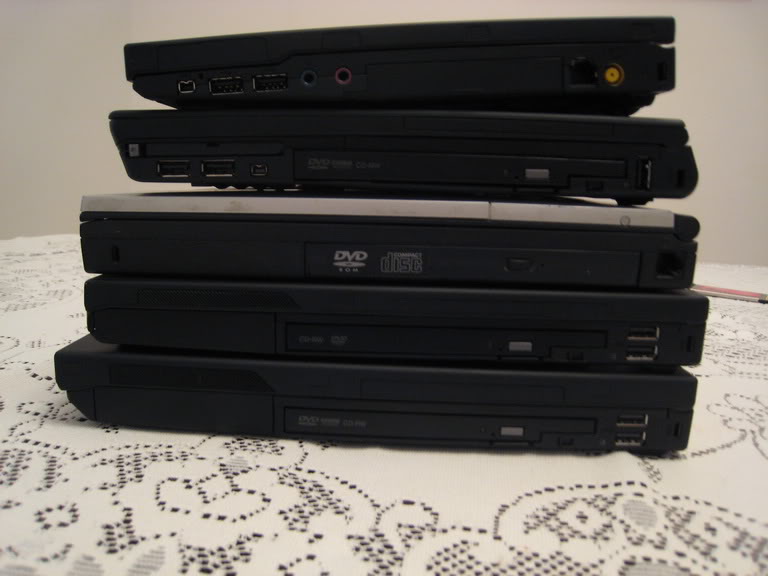 So, you can see that the top lid of the N610c is silver. Actually it's only the right side. There is a special cover there, that you can remove, and install a proprietary Compaq wireless module. But this one came without it.
Compared to the T60 one can see that the base is thicker (and it feels more sturdy), but the LCD lid is thinner, and so the LCD gets lots of ripples if you press it to hard, and it flexes. Even the X61 has a thicker lid.
This concludes the pack show.