When you want to travel as light as possible but must bring a laptop along, what's your laptop of choice? As many of you know, I am obsessed with traveling light. But I also care about having enough screen resolution, because I want to view two windows side by side even while traveling. I tried many ultraportable laptops over the years and none of them were satisfactory. The three lightest ones happened to be all Sony Vaios and each had its problems:
1) The 1.82-lb VGN-X505ZP was light enough, but had only 1024x768 resolution, 512MB of RAM and a 20GB 4200rpm HDD. It also lacked Wi-Fi, so I had to add a PCMCIA wireless card, making the laptop slightly heavier.
2) The 1.49-lb X Series (VPC-X113KG) was even lighter, but was extremely fragile especially the lid -- the screen got severely damaged after just one trip. Though its 1366x768 was better than the X505ZP's 1024x768, it was still very crippling.
3) The 1.23-lb P Series (VGN-P530CH) was not only yet lighter but actually small enough to fit in the front pockets of my pants, and 1600x768 was just wide enough to support side-by-side windows, but the screen was so small and short it was painful to use.
And all three laptops required their own chargers, which added to the travel weight.

But now I think I have come up with the best solution -- the Lenovo Thinkpad 8 Windows tablet with a case and a Bluetooth keyboard: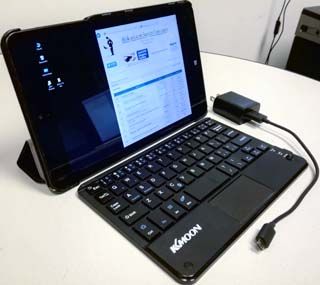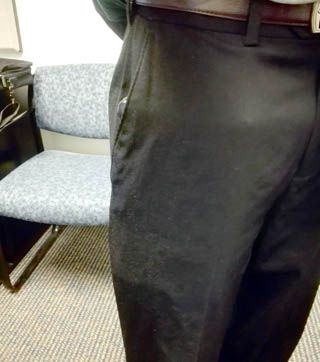 It uses a standard micro USB charger, which I always carry for my phone anyway, so in a way I don't need to bring a charger for the Thinkpad 8. Its 8.3" 1920x1200 screen is just large enough (and tall enough, thanks to the 16:10 ratio) that it's reasonably comfortable to view, and is also wide enough that I can tile two windows, albeit tightly. I use Windows 10 in desktop mode and scale at 125%, effectively reducing 1920x1200 to 1536x960, but that's fine. I found a super light external Bluetooth keyboard that has a touchpad. The keys are fairly small but still allow me to type reasonably fast. The case, designed specifically for the Thinkpad 8, works just like the Apple iPad Smart Case in that it has a cover that folds to create a stand that supports two viewing angles. The Thinkpad 8 + case + keyboard add up to a total of 1.58 lbs, which is certainly light enough. What's more, even though the case adds a bit of bulk, it still fits inside the front pockets of most of my pants, as can be seen in the second photo. Incidentally, I bought the LTE model from the UK, hoping to get at least 2G in the U.S. but unfortunately it doesn't work at all because it doesn't have any of the U.S. cellular bands. I forgot to test cellular connectivity while I was in China, Taiwan and South Korea a couple months ago. When I visit Hong Kong this fall, I will see whether it works there.
I bet many other forum members also try to travel as light as possible. What laptop do you travel with?