Hi,
I would like to report that after disabling the BIOS/UEFI whitelist using
1vyrain
and equipping with a M.2 <-> mini-PCIe adapter (image on left) the Intel AX200 M.2 card works on X230. Both Wi-Fi and Bluetooth work. The only drawback is that the networking LED does not light up when the card is enabled.
On Debian 10 I use on daily basis I had to upgrade kernel to newer version 5.4 from default 4.19 in order to make Intel AX200's Wi-Fi to work.
As the length of the adapter with the WLAN card is slightly longer than the half size Intel 6205 card (which I had previously installed) in order to fit it along with the WWAN card I had to reverse the WWAN card holder and put a screw washer under the WWAN adapter as without it it skewed which might cause additional exert strength and harm to the WWAN mini-PCIe slot (whether you would also need it it depends on shape of the WWAN holder you have).
Image on right is the photo shows the card installed in the notebook (for transparency - before immobilizing the antenna cables).
In case of questions feel free to ask.
Images (click to see full resolution):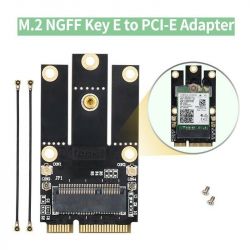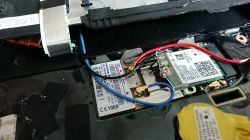 Best regards,
mp107