UPDATE: Blog post is up: https://rsend.wordpress.com/x210-corebo ... 10-laptop/ That will be updated with progress, major milestones will be added to this thread as I hit them.
Hi,
For those of us who have an X210, you might have noticed the lack of USB-C and / or Thunderbolt ports. My work is particularly Mac-heavy and there are a bunch of Thunderbolt docks and screens around the office, which was the stimulus for this project. I've been toying with it since last year, but because of the virus lockdown here in California I've finally had lots of time to work on it and actually get somewhere.
The good news: Looks like it's possible. The bad: We give up the M.2 slot and the entire sub-card on the right. Also, this is a teaser. I'll update it as I go along, it's not fully working yet.
The details:
After inspecting the insides of an X210, we'll notice that there's technically a bunch of area under the 2.5" HDD to the right of the main board, where the sub-card from the original X201 lives. The circuitry isn't very space-efficient and it's kind of old - the SD card reader in particular runs over USB 2.0, which is very slow by current standards.
You can get various Thunderbolt add-in cards, like the
GC-Titan Ridge
,
GC-Alpine Ridge
,
ASrock Thunderbolt 3 AIC
and
Asus Thunderbolt EX3
.
They all provide (at least one) TB3 output and take (at least one) Displayport signal as input, depending on how much resolution we want to pump over the link. Video data isn't provided through the PCIe slot, it's just multiplexed in. All cards include a USB 3.x controller, Titan Ridge cards apparently do not include a USB 2 controller so that need to be grabbed from somewhere else as well if we're using that.
Now, the EX3 (Alpine Ridge) is juuuuust small enough that it (probably) fits in the space where the sub-card lives, if we're willing to give it up (i.e move these features somewhere else).
Long story short, I am now in the possession of a Sunix UDP2018 card (I decided that if I couldn't get TB3 working, I could at least get a USB-C port that does Displayport as well), the Thunderbolt EX3 card and way too many M.2 risers / PCIe adapters.
The main issue is that the above cards are designed to work with very specific motherboards and are vendor-locked with a special "Thunderbolt Header", whose pins are manipulated by the boards to unhide the cards on the PCIe bus. Luckily, the Hackintosh / EGPU guys have some experts in this area, and they figured out how to activate the cards on unsupported motherboards. It's a combination of tying some pins high and poking at Extended Capability registers on the PCI devices.
In addition to the above, turns out that M.2 adapters don't adapt the CLKREQ# pin properly. This is present on M.2 & mPCIe devices, but not on regular PCIe cards. The dumb adapters appear to leave it floating, but it needs be tied low at the very least. It took me 4 months of trying out different adapters & wondering if they were defective to figure this out.
Now, let me present the beastly prototype: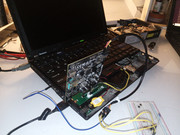 Here's what it shows up as in Windows:

Here's what it shows up as in Ubuntu:

It's still got a bunch of issues, and I haven't tested many things (an actual Thunderbolt dock and a monitor - all I have with me right now are USB 2 / 3 drives & disks).
In particular, if I try accessing a USB3 disk, after about a minute the system (Windows OR Linux) hangs and requires a hard reset. I suspect this has to do with the cheap M.2 adapter the card is sitting in for now.
Upcoming work: Fix freeze, steal Displayport signal, move sound card / SD card reader etc. This is more of a proof of concept for now, but I wanted to share it and get feedback / questions.
Other random things I learned so far:
- An NVME drive will work in a mini PCIe slot as an x1 disk drive - tried it in the WiFi slot
- You can get a combo
Wifi abgn/ac + BT 4.0 card that's purely USB
and is smaller than a half-size mPCIe card
Also, apologies if this post is a bit incoherent... I'm on-call on a night shift with a bunch of time to kill.
Cheers,
R