A few months ago a friend gave me an old Thinkpad that was used at some point by someone in his family, and was no longer needed. Turned out to be an A21m - a specimen I've never seen before.
These are the original specs:
ThinkPad A21m 2628-GXU
: PIII 800 MHz (256KB) 64MB RAM 20.0 GB 14.1 TFT 1024x768 8x-2x DVD, 3Com Combo, Win98
RAM was upgraded to 128MB by the owner, everything else was stock. It had Windows XP installed on it, which I did not want, since I have plenty of WinXP systems (and this one is a bit underpowered for XP to be useful anyways), so I decided to dual-boot Windows 98 and Windows 2000, since I have no laptops with these systems; I am not really into Linux for home systems.
The pictures below can be clicked for larger versions.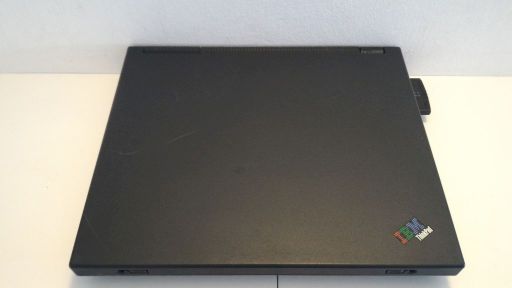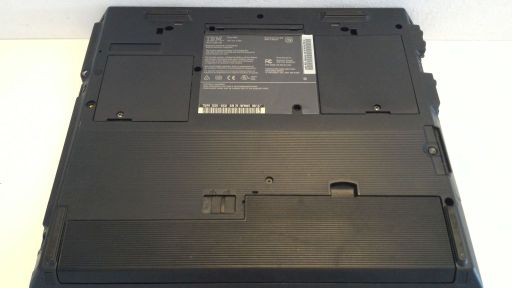 Top view:
shows a few scratches on the cover, otherwise the machine is in pristine shape.
Bottom view:
front-mounted battery, rear docking connector (compatible with both early and late versions of IBM port replicator / mini-dock / dock), access panels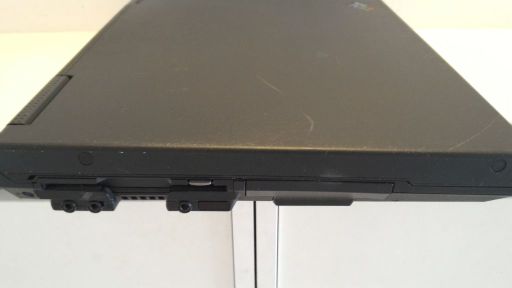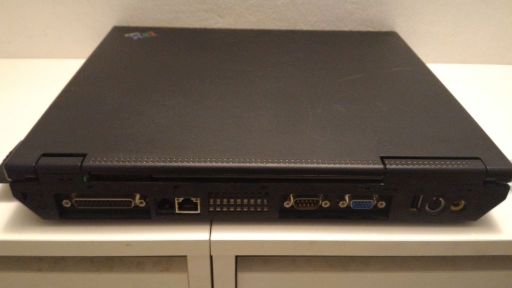 Left view:
Floppy drive (fixed, unlike A3x systems), audio jacks, hard drive
Rear view:
Parallel Port, Modem, LAN, Serial Port, VGA, USB 1.1 (vertical), PS/2 mouse port, power jack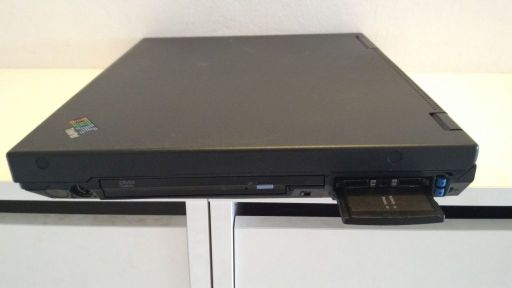 Right view:
S-Video, DVD drive (in Ultrabay 2000), 2 CardBus slots (one with USB 2.0 adapter, one with WiFi 802.11g adapter)
Laptop stack:
X32, A21m, A31p
The A31p is somewhat thicker that the A21m, but not much wider/deeper, despite being 15" and not 14.1". The A31p has two individual flaps for the CardBus slots, the A21m has only one flap shared between the two; if only the top slot is populated, like in the picture, the bottom is completely exposed and unprotected from dust.
The battery on this system was completely dead, and I did not manage to procure an original one, but found an inexpensive knock-off with extended capacity. Originally, A21m/A22m systems came with 6-cell 3.6Ah batteries, A21p/A22p with 9-cell 5.4Ah batteries; the knock-off is 9-cell 6.6Ah, which is plenty for a mobile P-III chip. The battery is a tad thicker than the original, so it does not sit 100% flush with the chassis, but that's barely noticeable, and the extra capacity is worth it. The seller claimed that these are new, unused batteries, and Battery Maximizer reads my battery as Sanyo, manufactured in 2016, with 1 cycle, 69/71 Wh actual/design capacity, and claims that it should last almost 5 hours on a full charge. Time will tell how legit it is.
With both CardBus slots populated, the system is much more modern with USB 2.0 and WiFi. Win98 SE required the USB patch to support USB 2.0 and generic mass storage drivers; both Win98 and Win2K require the manufacturer's utility to configure WiFi. I managed to get all relevant IBM drivers / utilities installed and running on both systems, and the only thing I can see as not working is hibernation on Win98 SE (pressing Fn+F12 sends machine to standby instead); I think I may need to install some supplement but haven't got around to that / don't care enough.
Some neat observations on the A21m / A2x series in general:
Standby is supported natively by the BIOS including pre-boot environment: BIOS setup, OS boot menu, DOS. I had no idea that some Thinkpads could do it; evidently, X32 can, but T60 cannot.
The power and standby status LEDs are embedded into the right hinge in a way that makes them visible both when the lid is open and when it is closed (most later Thinkpads have separate LEDs on the back of the lid)
Unlike the A3x series which used the 15" chassis also for the 14.1" LCD (the LCD bezel was just bigger), on the A2x had two separate chassis for 14.1" and 15"; the 14.1" chassis is the original design, the 15" looks like someone just added extra plastic on the left so that the base matches the larger LCD. See first photo in oeuvre's thread about the A21p here.
Finally, a picture with the system running, showing the Win2K/Win98 boot menu: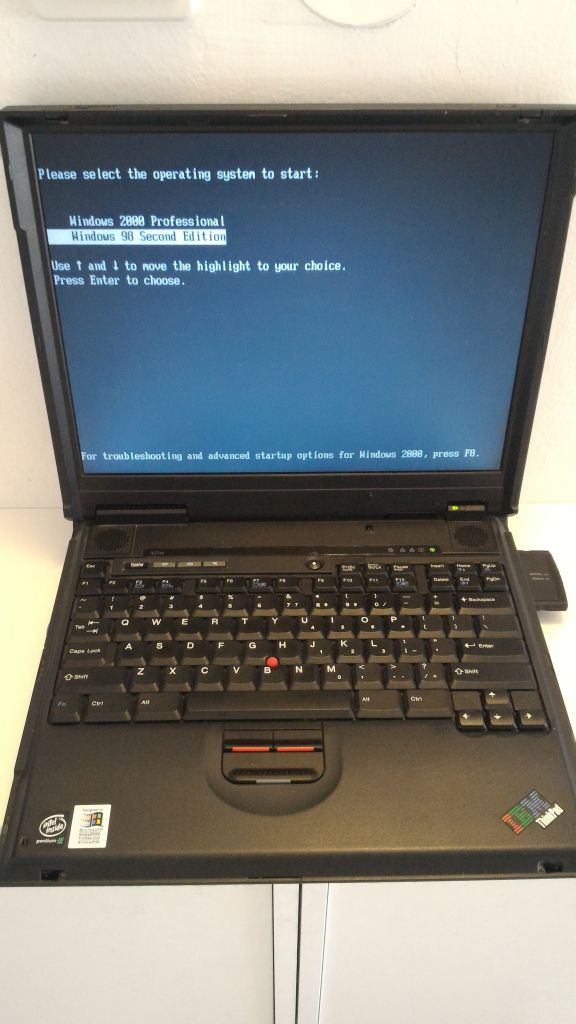 Why Win98? I am thinking at some point to make this laptop serve as a DOS game system, and I've heard rumors that the Crystal SoundFusion codec in these systems can actually provide some Sound Blaster emulation in pure DOS. One day I will get around to testing it.
Edit:
Tested successfully! DOS games work with sound.
Scroll down for:
Instructions for setting up audio under DOS
Link to audio samples
Additional links:
Blog post + Playable audio samples (SoundCloud embeds)
Thread on VOGONS