TLDR: I messed with some thermal gap pads and nearly eliminated the VERY loud buzz that the laptop made when the GPU was under load. I did this because an RMA seems about 5% likely to achieve the same outcome now that I have gotten a look at the design. It's a good machine which I am now even happier with, but corners were cut in the design as it pertains to dealing with inductor noises.
--------------------------------------
This is probably the end of my warranty, but oh well. I have read a lot of accounts of P53 owners encountering audible buzzing coming from their machines when the GPU is under load. It seems to vary, with some people saying that it is almost not noticeable to others clamoring for an RMA because it is so bad. My machine is/was closer to the latter category: VERY audible buzzing under benchmarks, when rotating CAD and even when the nvidia GPU was used for Youtube rendering. While I did not get out the measurement microphone to measure and analyze in Matlab, it was clear that the fundamental frequency of the buzz was directly proportional to the rendered frame rate, and the magnitude to GPU load.
There are a couple of common culprits when it comes to audible noises being made by power electronics. Inductors and capacitors. Caps will "sing" due to piezoelectric effects, or at least cheaper Class 2 MLC ones (X5R, etc). The bigger and more costly Class 1 ones (NP0/C0G) do not seem to do it. Anyway, I do not think that it is the caps because the ones on the buck converters of the P53 GPU power rails are (gut feeling) too small to produce some of the lower frequency buzzing that I was hearing at lower frame rates.
That leaves inductors, with 3 common causes:
1) Magnetostriction - Ferromagnetic materials will change shape when their magnetization changes, which could happen as the electromagnetic field in the inductor changes. This seems sort of unlikely in this particular application.
2) Coil rattle - The inductors in question have no wound coils, so strictly speaking it can't be this. Basically, the EMF generated as the current changes will push the coils around and they can bang into one another and/or the bobbin unless the thing is vacuum-potted in epoxy (which costs more).
3) Conductor-ferrite-motherboard rattle - This is what I believe the cause is in the P53. The inductors are the molded type with the conductor basically being a straight slab of copper (often called a clip) running through a surrounding ferrite body. Despite being molded, there can be movement between the clip and ferrite due to differences in thermal expansion rates and manufacturing process. The tremendous current transients (rate of change, and peak magnitude) will develop significant spikes in the electromagnetic field, and physical force will develop between the clip and ferrite body. In a product I worked on many years ago with similar inductors, we had a buzz problem, and a multiphysics simulation in ANSYS estimated that close to 90N (~20lb) of force was being exerted by the clip onto the ever-so-slightly loose ferrite body. That small, jerky motion was transmitting into the motherboard, which acted like a loudspeaker. The solution was a combination of more costly inductors which were made better, and firmware changes to the power management to try to make the current draw more consistent. Anyway, those solutions don't do much for our P53's since we can't do any of that.
I took the machine apart to repaste the CPU and GPU (5-10°C temp reduction!), and while I was in there I got a look at the Buck converters on the GPU power rails. It's pretty standard stuff, similar to what you will find on almost any PCIe GPU card, except fewer of them since these are lower power variants. What I observed was that Lenovo was trying to do one of two things there, using a little stamped aluminum bracket and some compliant thermal gap pads.
1) They may have been trying to implement a small heat sink to cool the inductors and switching FETs, but I doubt it because it really fails to serve that purpose. There is nearly zero air flow through that part of the chassis, the aluminum bracket is not going to conduct heat into the chassis very well, and the gap pad for the FETs does not even touch them at all because the MLC caps all around them are much taller. You can see the imprints of the caps on the respective gap pad, and there was zero contact with the FETs. Additionally, because of this, the upper gap pad was only contacting one of the inductors. If this is supposed to be a thermal solution, it is probably worse than nothing at all, and I am willing to give Lenovo the benefit of the doubt by assuming that thermals were not the (main) reason for this little assembly.
2) Noise mitigation. I think that Lenovo knew that acoustic emission was occurring when they were developing this, and to be fair it is actually REALLY hard to get rid of even with more expensive inductors in these types of high current applications. Anyway, I think that it is there as an attempt to damp out the noise. It might be 2-tiered because they were not sure if it was the inductors or caps causing it and did not have time to figure it out. It also explains why P53 owners have such varied results in terms of how much buzz they hear. Based on some pretty significant (well documented) oversights related to assembly tolerances in Lenovo products during the last few years, this little mitigation measure was probably a late-stage afterthought. Between assembly tolerances, stamping tolerances and possible lack of communication between EE and ME, we end up with a bracket which simply won't contact the stuff that it is intended to. The caps push it out of the way since it is not very rigid and the gap pads are <0.5mm thick. I'd bet that people with "quiet" units had a lucky draw where things happened to mate up properly, and/or they got inductors with a tighter ferrite-clip interface.
Here are some photos of what I found after disassembly. Note that the lower imprints are from the caps, and when you look at the right angle you can see that only one inductor was contacting the other pad.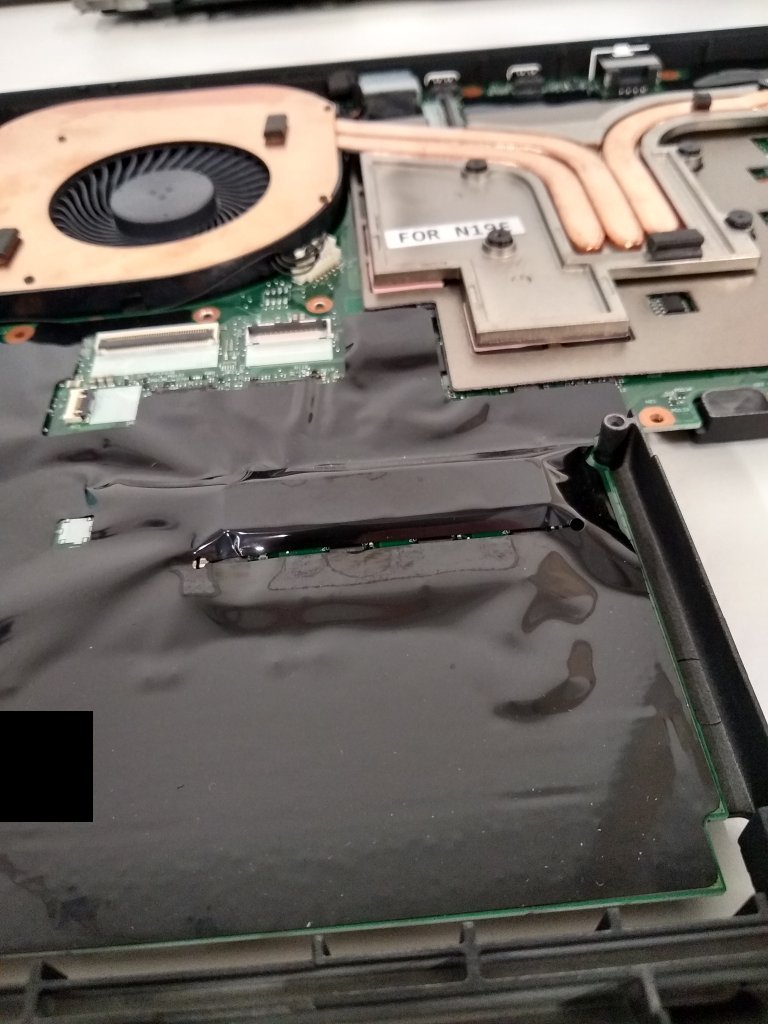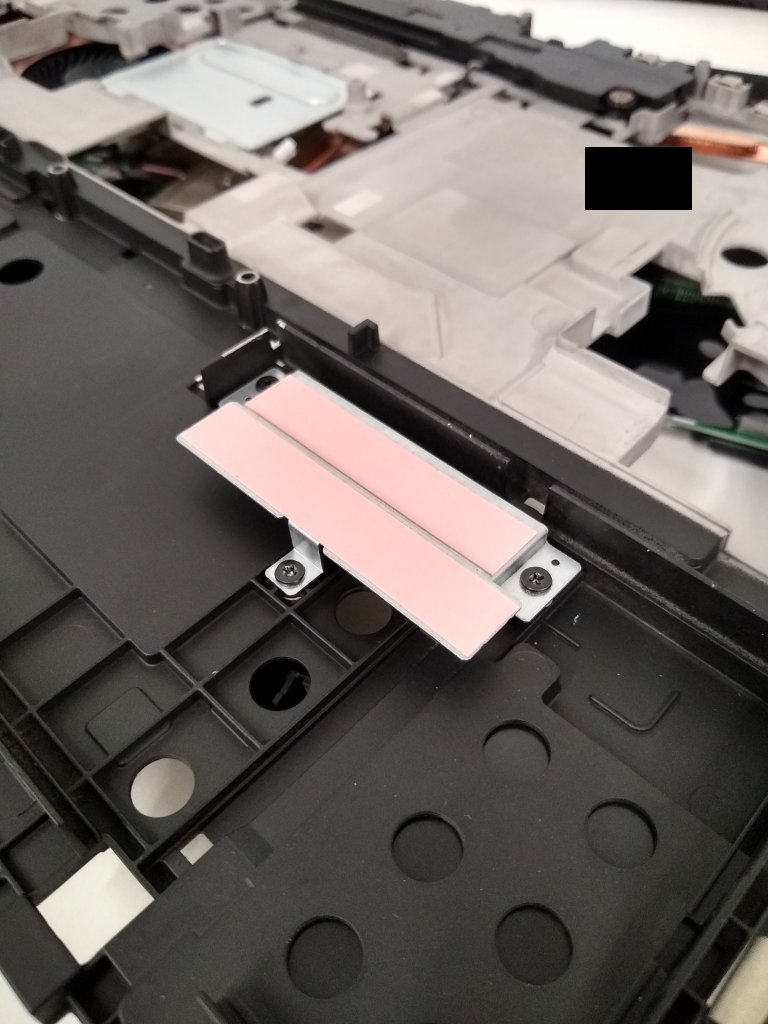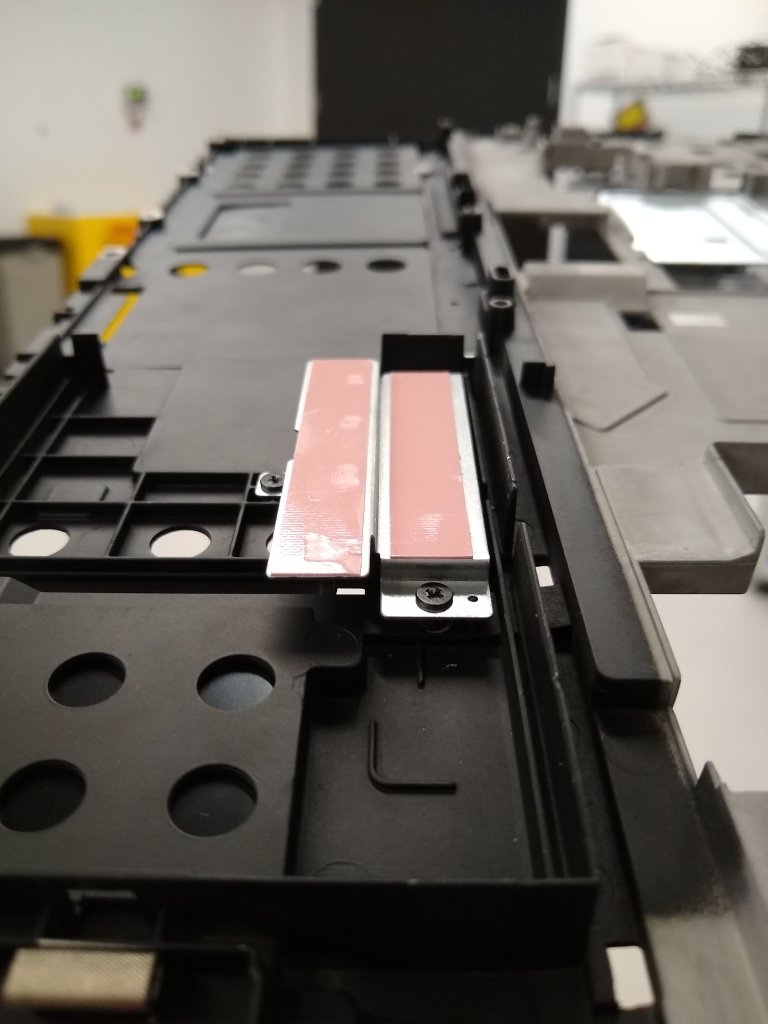 Here are the parts I have been talking about. Lenovo does get points for using ON Semi FETs rather than the no-name knock off ones that I find on most non-reference GPU cards. The big gray things are 220nH inductors (not resistors, despite the "R"). You can see how the clip goes into the ferrite body that is molded around it. Those two parts can become ever so slightly loose, and then rattle against each other, and/or the ferrite body against the motherboard.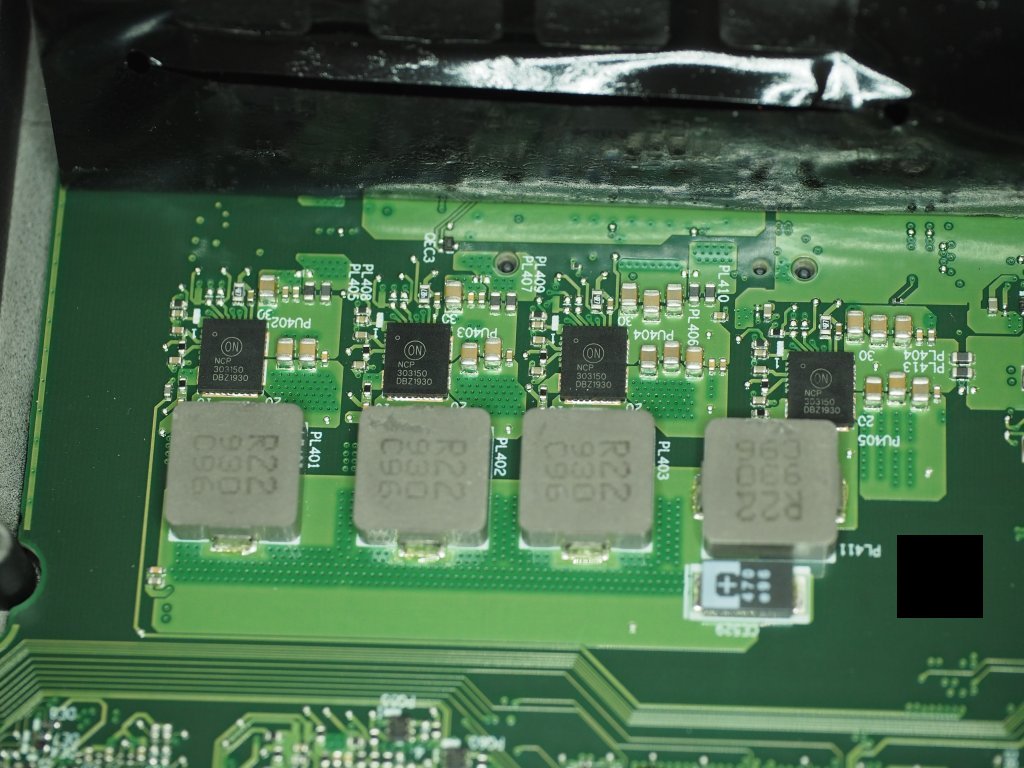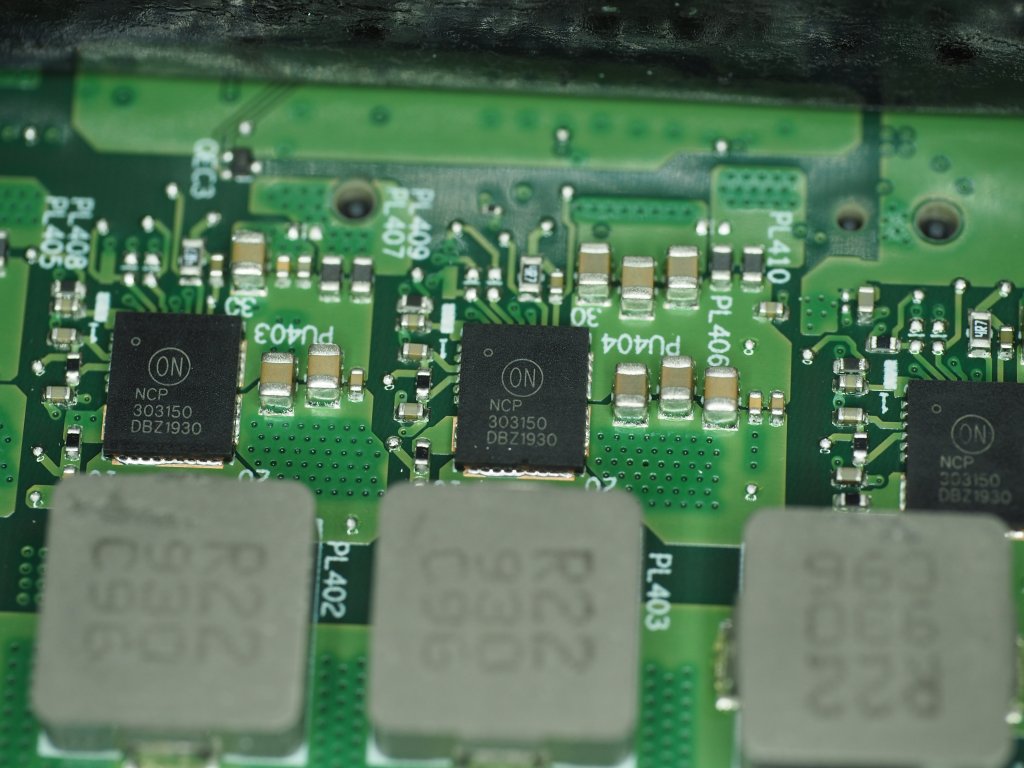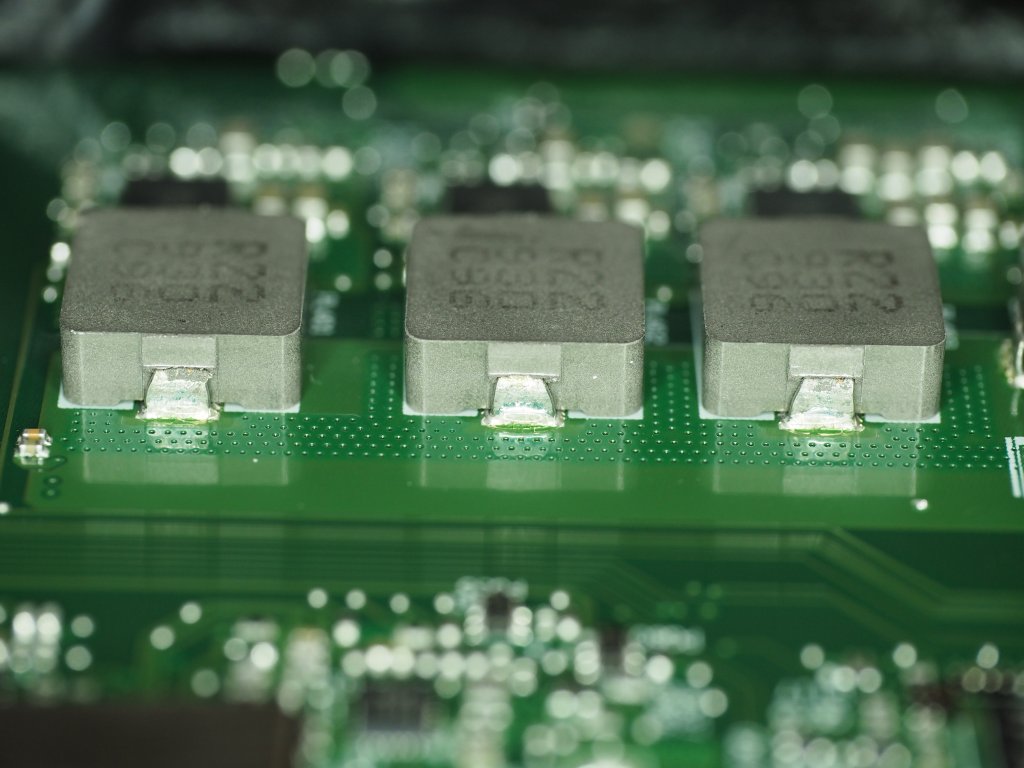 Since I had approximately zero confidence that an RMA would resolve this, I decided to try my own non-destructive solution using some thicker gap pad material and trial+error. First, I noted that the motherboard sat somewhat loosely against this tab in the lower frame. Even with screws and stuff installed, tapping on it would make a bit of a rattle, so I installed a small strip of ~0.75mm gap pad. This material is very compliant/squishy, but does not totally lose elasticity after compression, so it seemed appropriate to use as a small gap filler / damper.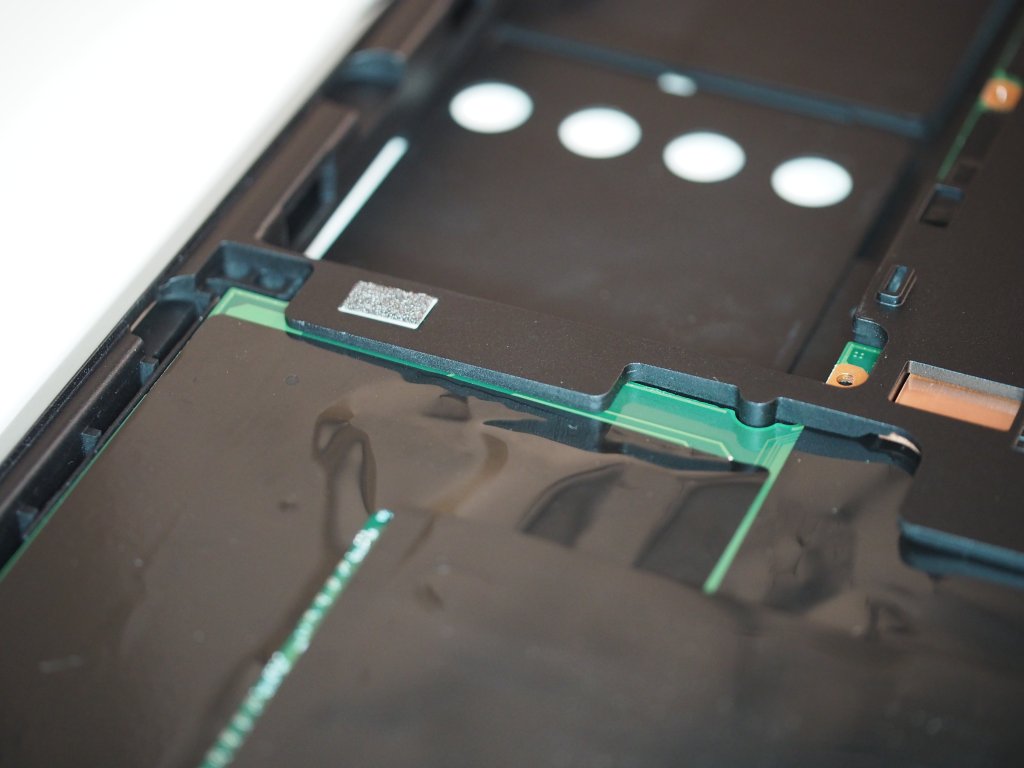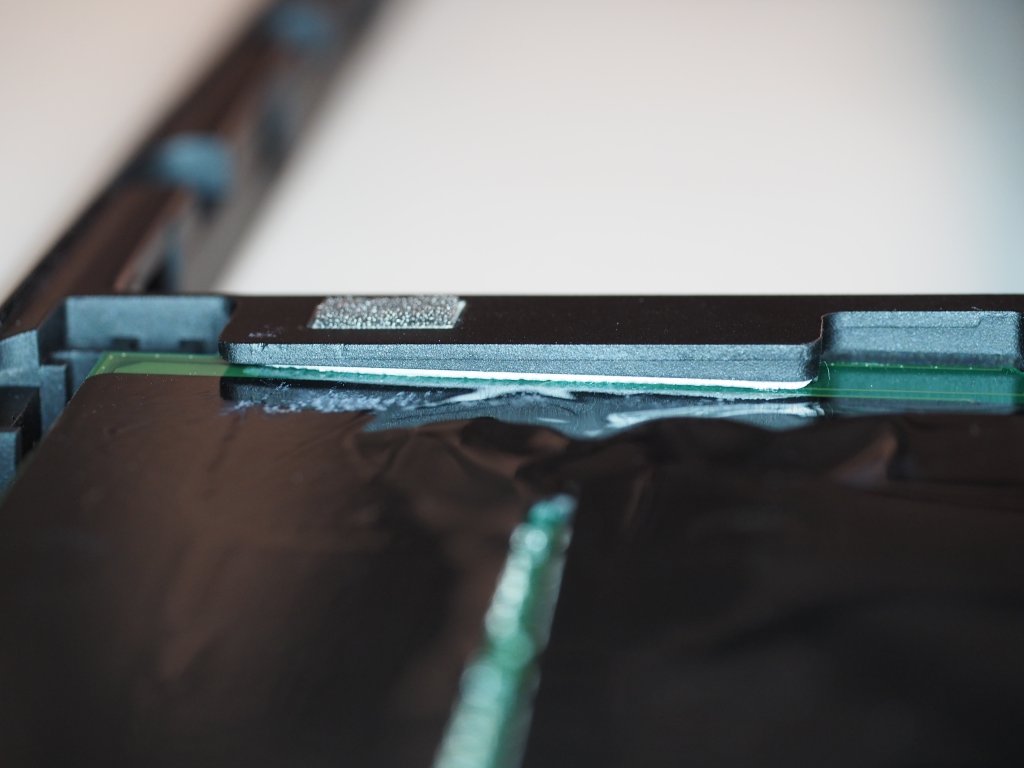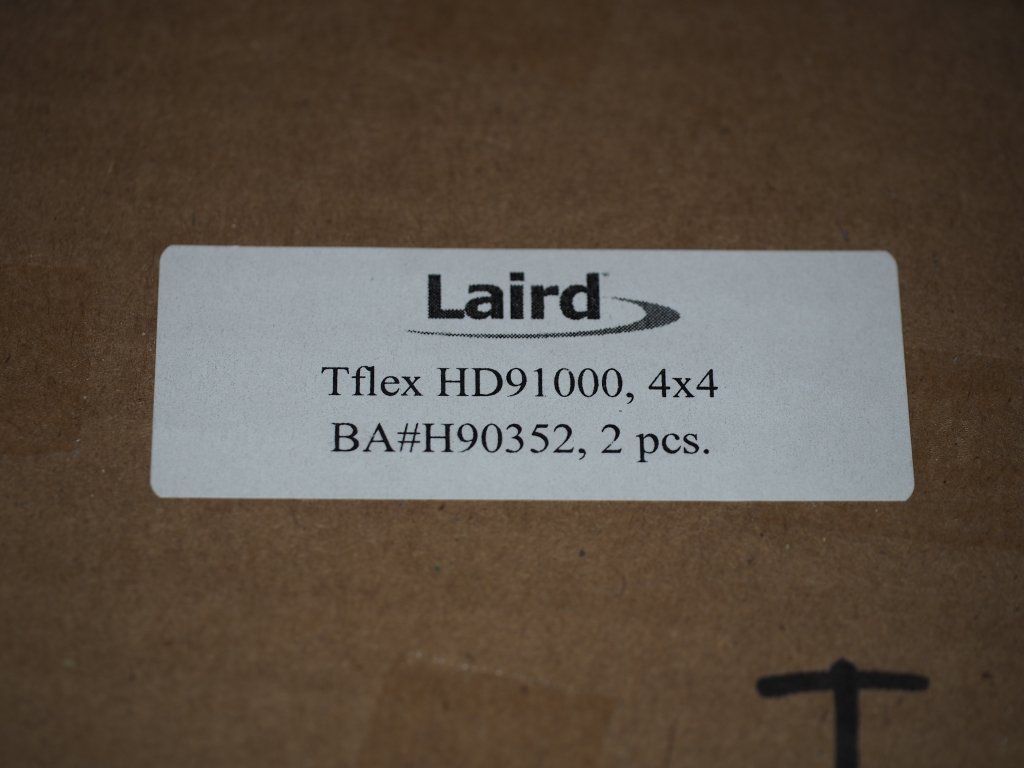 After that I turned my attention to the power rails. It took a bit of experimenting with various combinations of stuff, but I finally found a setup which got all 4 FETS into contact with the bracket (just in case it was supposed to be cooling them, despite not looking convincing as a heat sink) while also making full and complete contact with the inductors. This involved stacking both original pink pads on the inductors, and then making small rectangles of the 0.75mm material which were placed directly onto the FETs. I doubt that the original intent was to have the caps in contact with the bracket because the FETs are what needs cooling, and if the caps were making the noise it would be from the piezoelectric effect which would not be helped one bit by this. Then again, that last FET does not even sit entirely under the bracket, so maybe they did not know what the noise source was and figured they would just sandwich the inductors and caps to be safe (again, you aren't going to do anything about piezo vibration like this...).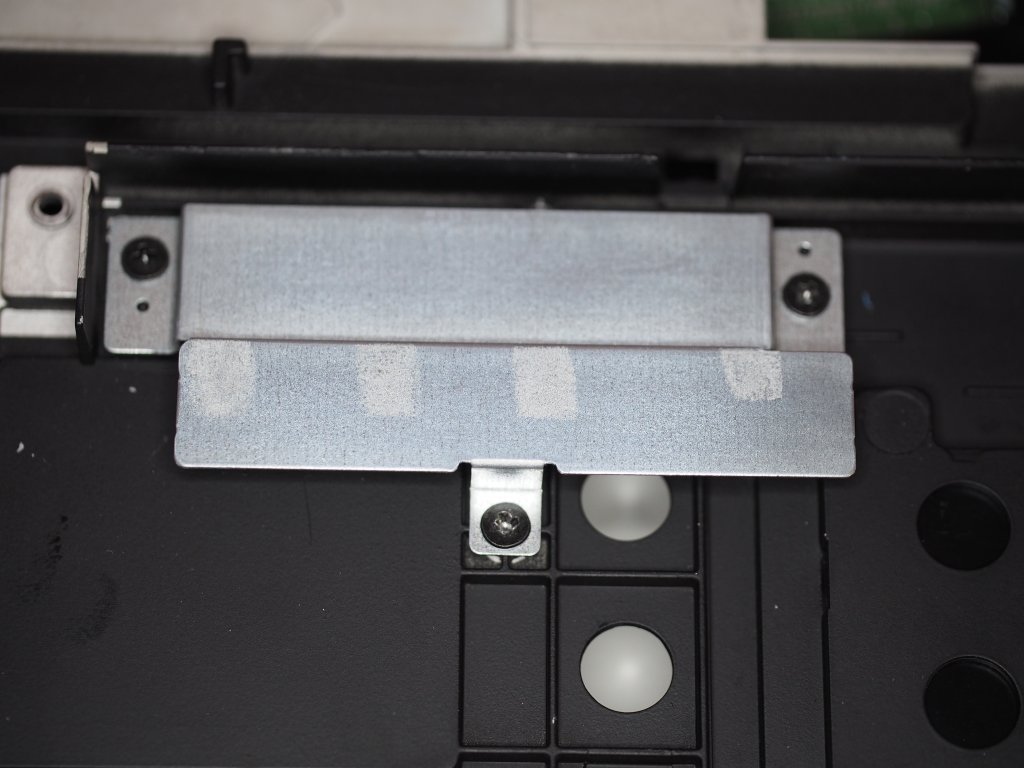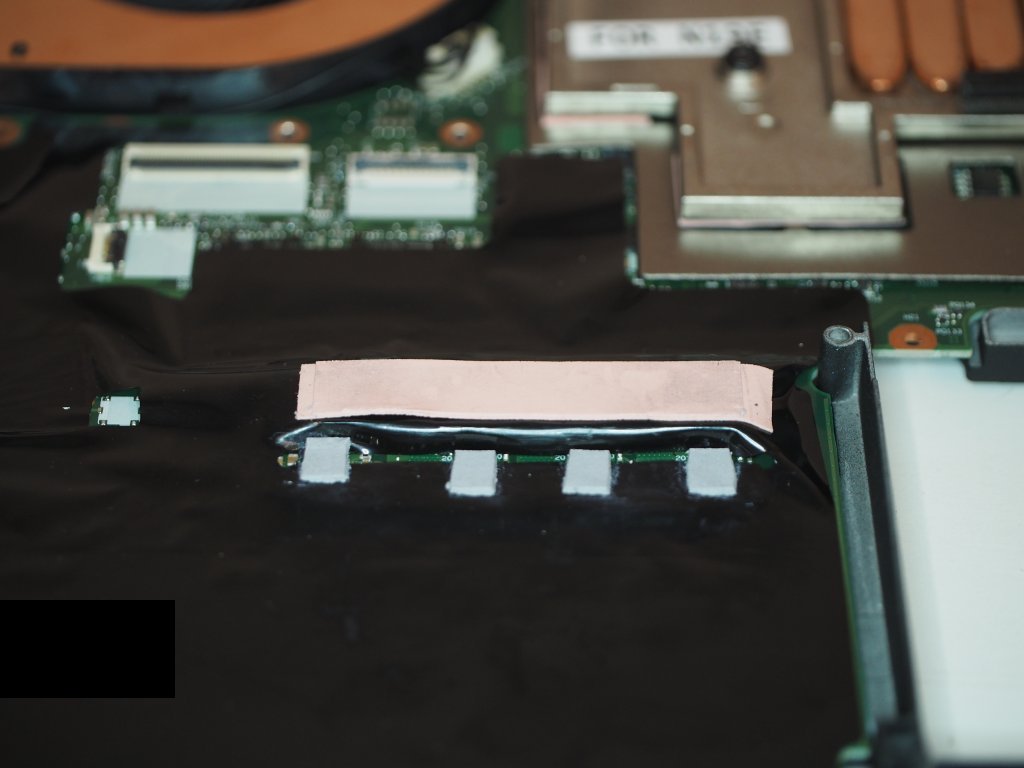 The result for me was a SIGNIFICANTLY reduced buzz under GPU loads. The worst one has been the 3DMark Skydiver test which runs at 250-350FPS, which made a correspondingly high frequency buzz. Previously it was audible from across the room. Now it is barely audible in a quiet room when the laptop's fans are running at medium speed. Lower FPS stuff, especially closer to 60FPS, is not audible at all unless I place my ear a few centimeters away. Again, this leads me to believe that Lenovo's little bracket was a workable solution to manage the noise, but the actual implementation fell short for whatever reasons (cost, schedule, not knowing the real root cause, etc). I've worked in the consumer electronics industry for a while now, and I've seen this stuff happen way too often, so it's no great mystery.
I could probably reduce noise even further by putting more filler pads in or something, but it's quiet enough now that I do not hear it even without headphones except under very specific synthetic benchmarks, and even then it is not loud enough to really draw much attention unless I am looking for it. My cats no longer get curious like a bug is inside of it. The poor thermal management of the FETs worries me a little since those are almost always what fail on desktop GPUs that I have seen, but at least they are no worse off now than they were. A person has to know when to say "good enough" and I think I am at that point.
Also, now I notice another buzz coming from the CPU area lol. It is very quiet though, enough that I am not planning to do anything about it. The other annoyance is that the threads where the keyboard's 2 screws go into the magnesium chassis are stripped. They were basically pooped from the factory, due to the captive M2 screws being very short and really only engaging a couple of threads. I managed to pop the original screws out and replace them with slightly longer ones, but even those are basically about to strip because only ~2 threads were left in the holes. You can't go too long because the battery is right on the other side of one, so I am either going to install some M2 thread repair inserts, or find some appropriate M2.5 wafer-head ones and tap them out to the next size up. The fun never ends, even with a nice new machine. While I like it, the design and build quality is a noticeable decrease from the W530 I have been using.