Yes, the machine that we've all been waiting for is FINALLY here, and by unbelievable kindness of a fellow forum member ended up in the hands of silly old me....
the basics:
Think about this laptop as a 15" T43 with the - somewhat crippled - guts of a T410. That's the closest comparison I've been able to come up with.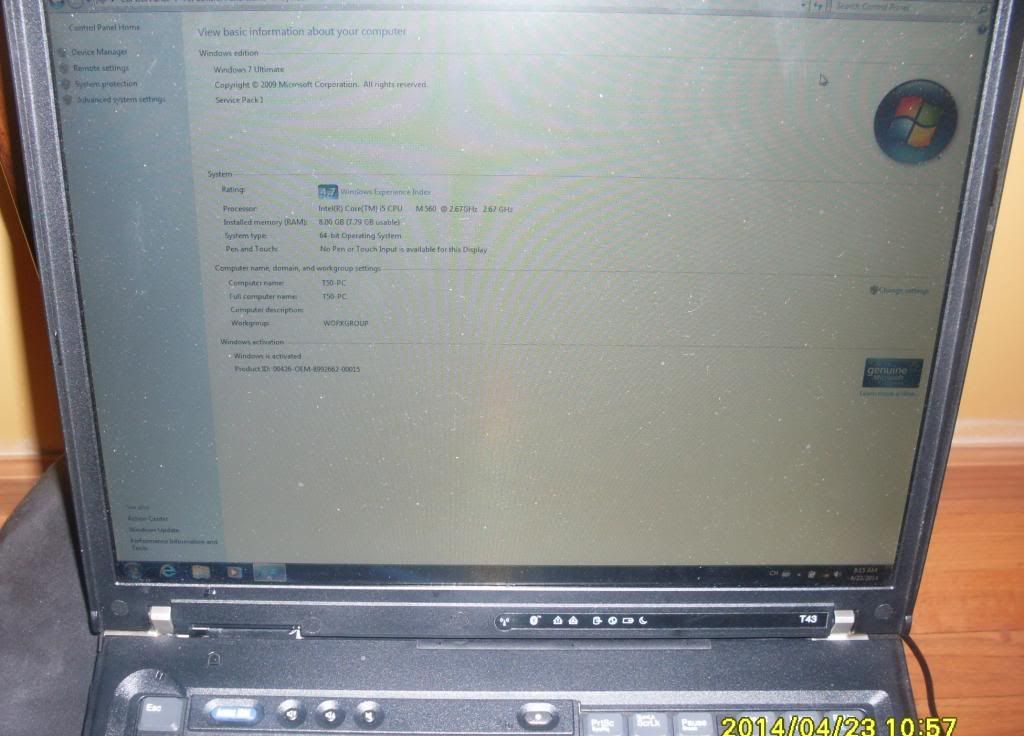 The CPU is a first-generation Core i5 (560M), running at 2.6GHz. 8GB of DDR3 RAM. Intel 520 SSD, all placed in an *extremely* pretty (as in unused) 15" T43 shell with a 15" SXGA+ IPS LCD. I was afraid to breathe on - let alone touch - this thing of beauty.
Are you salivating yet? I know I was...
What I did:
1) Tested real-life performance of the machine as well as performed some minor benchmarking
2) Opened it up to see how on Earth the guys from 51nb did what they did
3) Looked for any imperfections and glitches
4) Enjoyed myself thoroughly while doing all of the above
What I didn't do
:
1) Swapped the parts around. The system was used and tested strictly as received from its owner.
2) Tweaked the OS. There are just too many variables and caveats involved in doing so when one is testing a laptop that belongs to someone else.
Initial impressions:
The machine feels very fast. Boots to choice of operating system screen (both Vista and W7 are installed on it) in about 12 seconds, and takes another 10-12 to the login screen. In a different setup, with a single OS boot, you'd likely be looking at 15-17 seconds from the moment the "power" button is pressed to desktop. Shutdown takes about 18 seconds on most occasions.
The fan is on most of the time, and it's not blowing out hot air so it's not a question of the machine getting hot, but of the embedded controller settings. If you're looking for a quiet laptop, this is not the one.
ThinkPad that is not a ThinkPad:
It's incredibly easy to forget that we're not looking at a genuine IBM/Lenovo product. However, the reality sets in *really* fast once the laptop is in use.
There is no splash screen, no F1 or F12 options that most of us have gotten used to over the past two decades. One has to press "Esc" to enter the temporary boot section, and enter BIOS - which doesn't even remotely resemble the Thinkpad ones based on Phoenix - from there.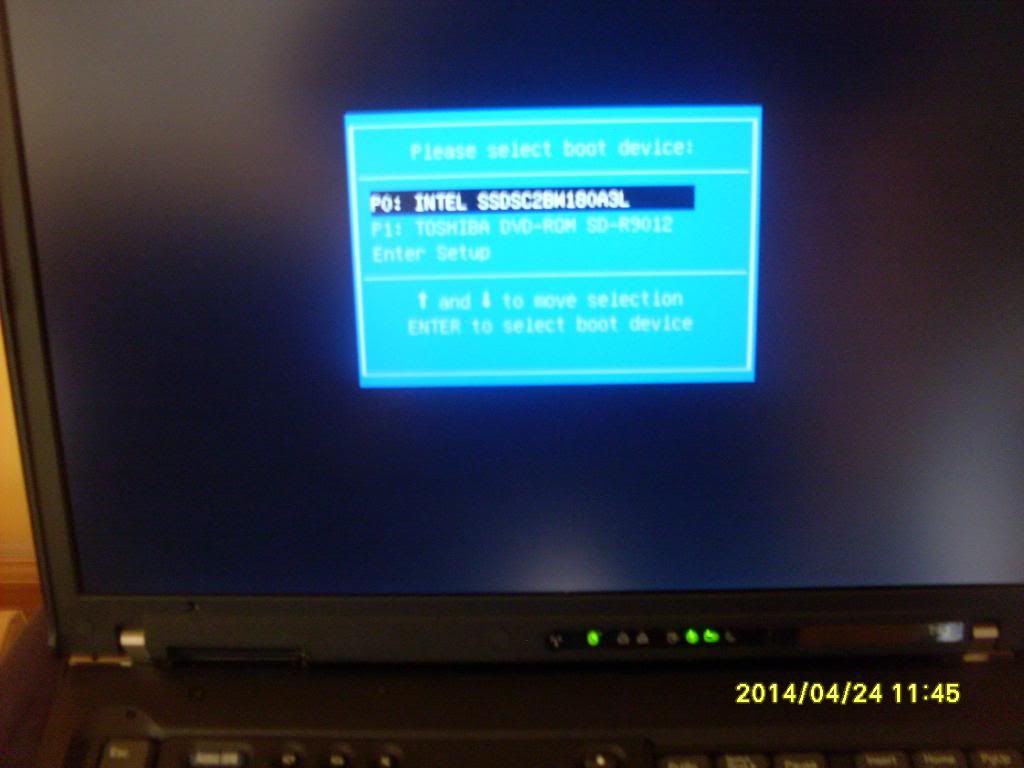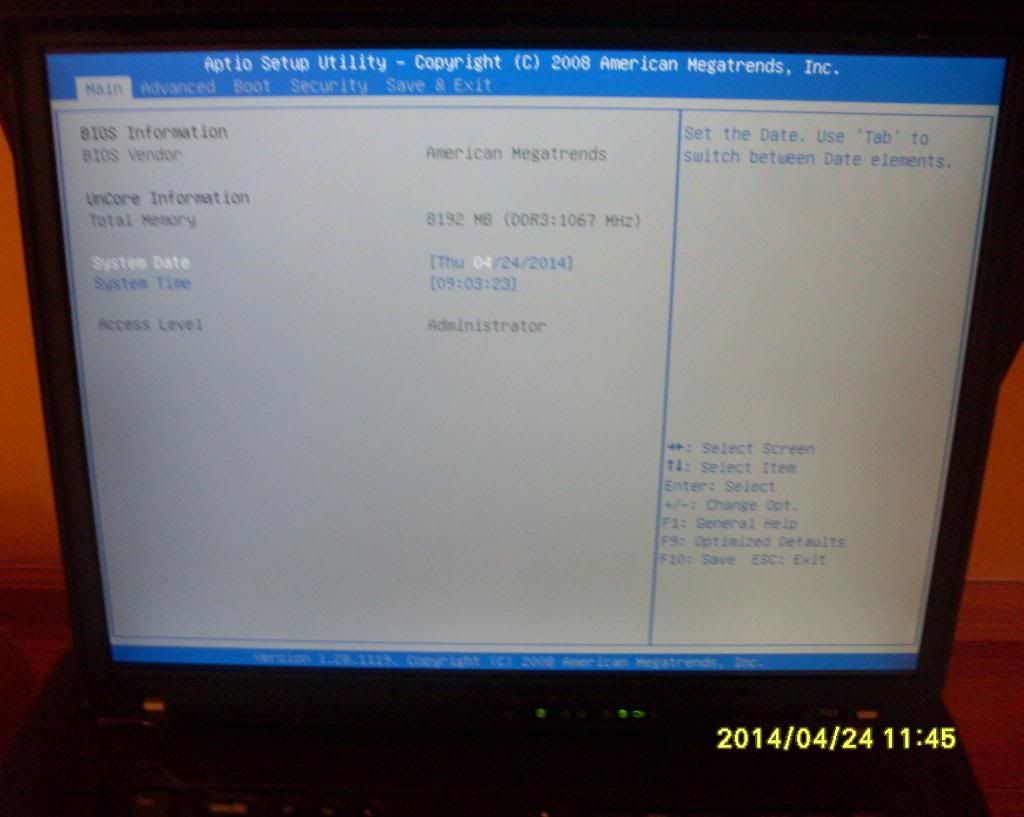 Not surprisingly, none of the Lenovo-specific software such as Hotkeys, Access Connections or Power Manager can be installed. The only thing that does work is the fingerprint reader. ThinkPad fan control (TPFC) also does absolutely nothing and doesn't even recognize the majority of the sensors.
The docking station port has also been neatly covered, so there is no docking capability as such.
Crafstmanship:
The fit and finish of this machine is exceptional. Without knowing that I were looking at a custom build, it would be reasonably difficult to detect that fact.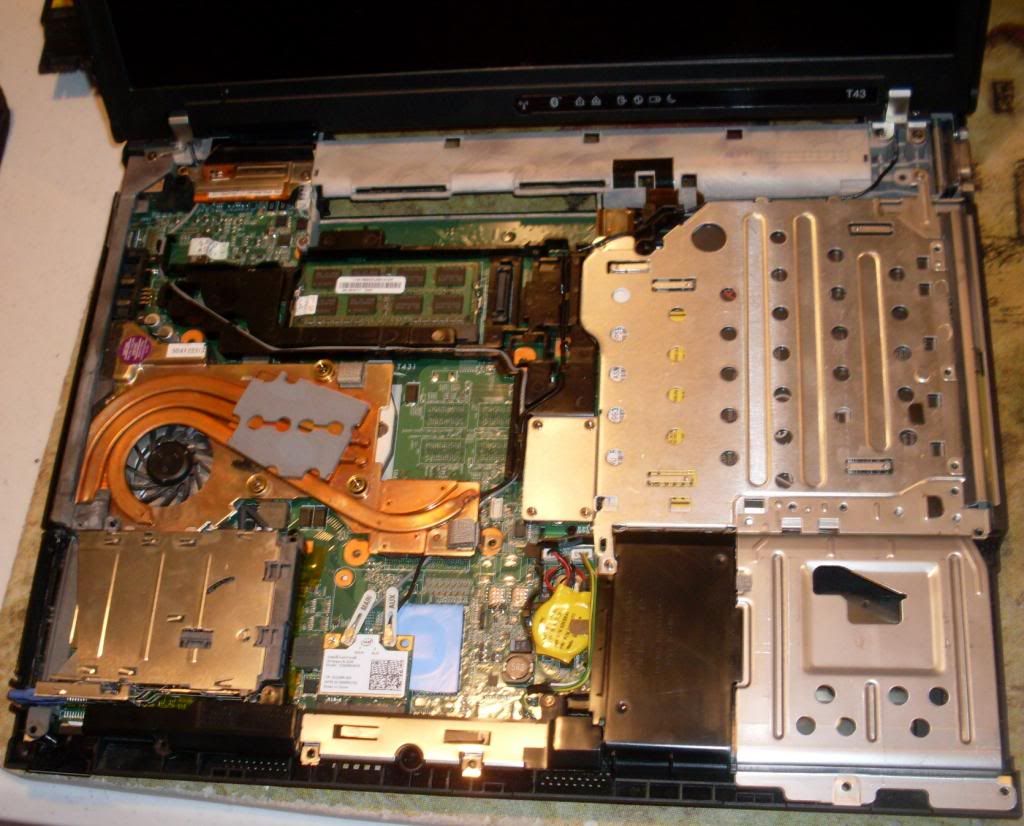 Performance:
If you've ever handled an Intel-based T410, this machine comes pretty close. Not a stunning performer by today's standards, but an incredibly usable one, especially if one's work is mostly office and web-related.

Benchmarks:
3D mark puts this laptop at
3098
. A FrankenPad with NVS140M GPU and a X9000 CPU scored
2524
.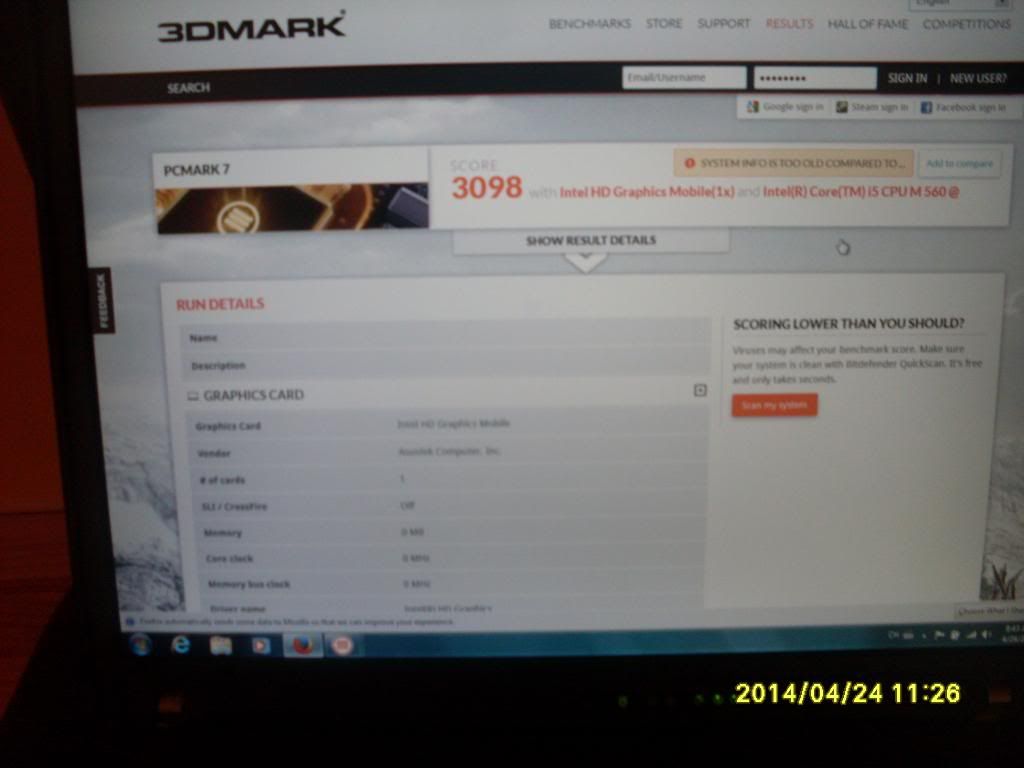 Graphics are the machine's weak point.
Freestone - which I've been using for years in a variety of testing setups - rates T50 at measly
78
. That, of course, is much better than what a real T43p will score - anywhere between 46 and 48 depending on the graphics driver and settings - but a far cry from a nVidia-based T61/p units which will run anywhere between 120 and 150.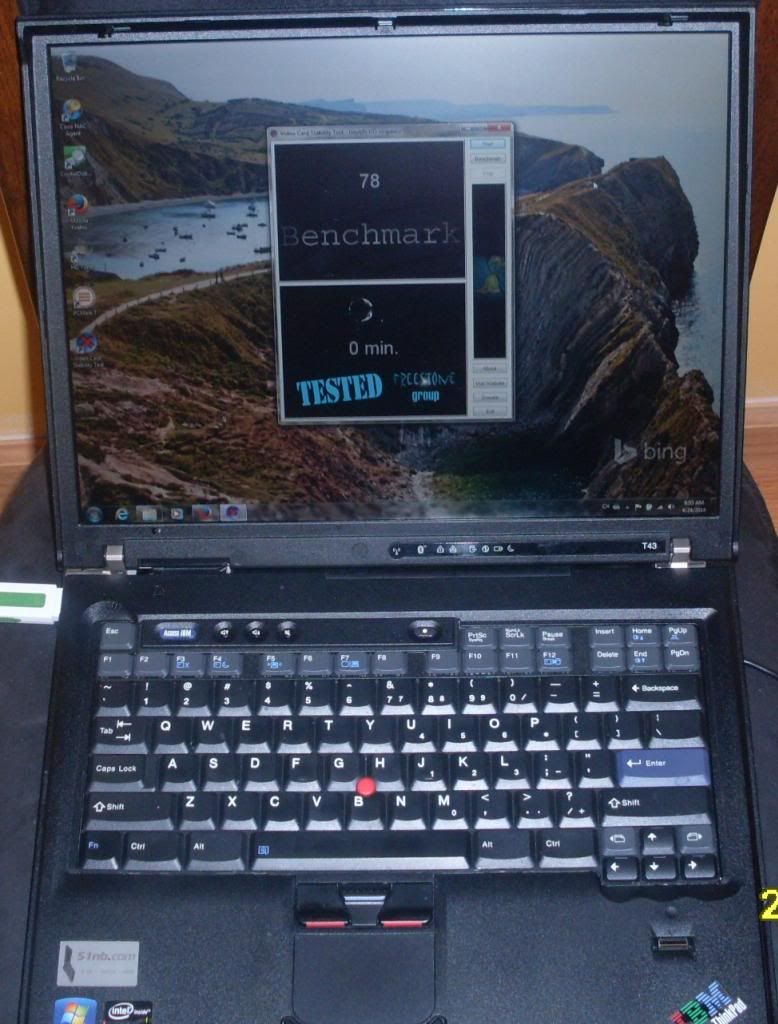 WEI rating - for those who actually pay mind to it - comes at 4.7 which is not bad for a machine with integrated graphics.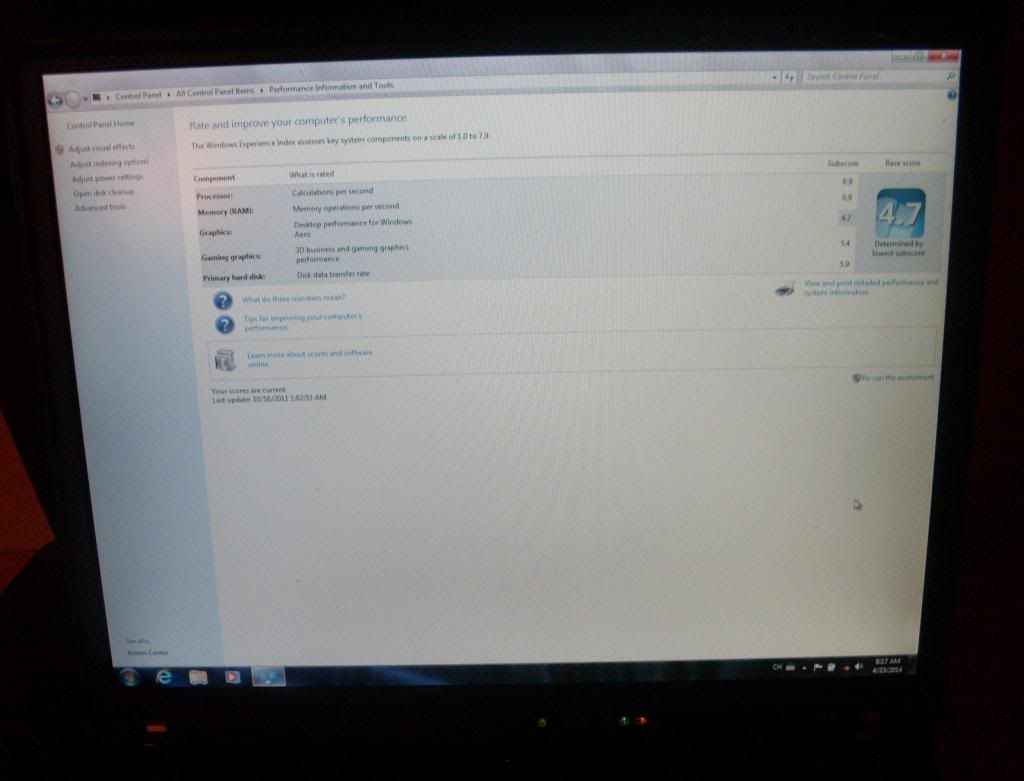 Glitches, imperfections and pet peeves:
Since nothing created by a hand of imperfect humans can ever be perfect, T50 is no exception. Deficiencies - at least what I deem them to be - are listed in order from minor to major:
1) The machine still uses the original T4x media drive and UltraBay, limiting transfer speeds to PATA standards. Hardly acceptable in A.D. 2014, although the reasons behind such a design are rather obvious.
2) Lack of ports. With no docking station connector, the expansion options of T50 are very slim, and I'm being kind here.
3) Pressing Fn + F3 combo which would simply turn the screen off on a "standard" ThinkPad from almost any era sends the T50 into a comatose state: nothing is displayed on the LCD but the machine becomes completely unresponsive and a hard shutdown is required. No idea on what all of this is about, but let's just say that I wasn't happy about it to begin with, and became even less happy when I found out that I could replicate this behaviour every single time.
4) From time to time, the machine refuses to recognize a perfectly healthy battery and states that "no battery is detected". Removal of the battery and a shutdown/restart are required. I've also encountered numerous occasions where the system would not turn on without the AC adapter being plugged in, although a fully charged battery was present.
5) My final - and BY FAR the biggest - gripe is the fact that the LCD is only usable at full brightness AND that the problem does not reside within the screen itself. Once the brightness is lowered, the severe flickering starts rendering the use of this machine extremely unpleasant. If I were a betting man, my bet would be on improperly regulated voltages between the planar and inverter being the culprit for this behaviour. Since I wasn't about to start ripping someone else's unique laptop apart and troubleshoot the way I'd do if it were mine, my word to the wise who are interested in obtaining a T50 planar is to count on *always* running the machine with the screen at full brightness.
T50 vs. T601 FrankenPad:
This should be a no-brainer, but it's really not.
While T50 feels faster than a T601 with somewhat equivalent configuration (8GB RAM, SSD) a real-life comparison would entail several other considerations:
a) If one relies heavily on Lenovo software such as Power Manager or Access Connections, they might find T50 less fitting for use than a T601.
b) Those who maintain even the slightest interest in gaming and/or remotely intense graphic applications will be better served by a nVidia-based T601.
THE VERDICT:
While not without imperfections in its own right, T50 is an impressive, brave and reasonably-well-executed concept.
If you're a T4x diehard like myself - with a shell or two or seven to spare - obtaining this board at somewhat reasonable price ($200-250 FCO USA for a bare planar) is a must.
My two biggest concerns would be support of the product itself, and the aforementioned LCD flicker.
Having said that, if these planars were readily available for purchase I'd have absolutely no problems in shelling out the cash for a couple of them right now.
other notes:
1) For those interested in running Linux on T50, I've booted Fedora 19 from a "live" DVD and all the hardware was recognized and instantly usable.
2) I was NOT impressed by the audio quality whatsoever and would argue that the analog chip on the original T43/p produced a much better sound, although not stellar in its own right. Then again, everything after A3x series was...meh at the very best in that respect.
3) While I haven't performed a "proper" battery rundown, a 9-cell Panasonic holding 85% of its design charge yielded 4 hours of light use which is about on par with my own T43p, give or take 15 minutes.
Additional pictures are available here:
http://s1088.photobucket.com/user/ajkul ... t=3&page=1
Once again, my deepest gratitude goes to our fellow forum member Joe who had provided me with this unique opportunity of testing his new "baby".
Questions? Ask away!