It appears my workplace will be upgrading my T470p very soon, so this might be the last chance to take some pictures. Click on the thumbnails for full size images.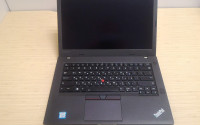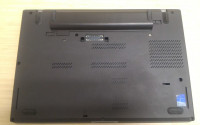 The T470p is one of the last systems in the design line that started with **40 series (the other system is the X270). The T470p/X270 are essentially identical to their predecessors in looks, whereas the T470, T570 and T470s incorporated a new and slightly different design.
The most noticeable thing in the old design is that the machine is dark gray and not black. It is very visible next to other Thinkpads, and also in the contrast between the full black keyboard and the body.
The T470p takes the old 68/68++ batteries, whereas the T470/T570/TP25 take the new 61/61++ ones. I don't understand why they bothered with the change, since the batteries are almost identical - the connector is just in a slightly different location, which makes them incompatible. Don't think I will ever fully understand those board design considerations. Maybe it's nothing but a cheap marketing ploy to sell new batteries?
The T470p was also the last of its line; its differentiating feature was quad core -HQ CPUs. Since in the **80 series the low power -U models also shifted to quad cores, the thicker and heavier laptop line was deemed unnecessary.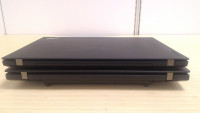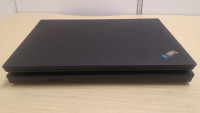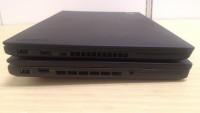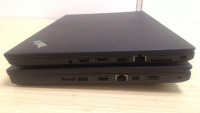 The differences between the T470p and the Thinkpad 25, which was designed after the T470, are subtle. The TP25/T470 are slightly shorter, narrower, thinner, lighter. You can see how the T470p has longer hinges, for example. The port selection is almost the same - 3xUSB, HDMI, Ethernet, audio and full-size SDXC slot. The T470p has the old miniDP port, while TP25/T470 have the newer Thunderbolt port, which is more versatile - it can provide USB, video and charging. The SIM slot is on the right on the T470p, and under the battery on the T470/TP25. The Smart Card reader is optional on T470/T470p; the TP25 has the dummy slot, but it does not come with a reader (can be retrofitted).
The T470p has no internal battery, so no power bridge and lower battery life overall. Still, despite that, and the extra bulk, and no Thunderbolt, some would definitely prefer that the Thinkpad 25 was based on the T470p (and not T470), for the quad-core CPU and the QHD screen option. The "T480 internals in a Thinkpad 25 shell" mod bridges this gap and goes an extra mile, but it is not a trivial mod to implement.
A thing I personally appreciate in the old design, and wish that my TP25 had it, is the front middle screw on the bottom panel, which prevents
this minor cosmetic annoyance
.