As we all know, a disreputable company going by the name of "Lenovo" has completely ruined the Thinkpad keyboards which we enjoyed up until the *20 generation.
A few years ago, we all had high expectations about a possible revival of the True Thinkpad, which thanks to the input of David Hill, would come complete with 7-row keyboard, Thinklights, plenty of status lights, etc. Alas, this was a total letdown.
It's been clear for some time now that the community will have to make do with the official owner of the Thinkpad brand ; trying to find or engineer the best Thinkpad ersatz that we can.
Last February, the startup "Framework" introduced its concepts and first models :
Framework presents the world's most customizable laptops with swappable motherboards, ports and displays

Framework, a new laptop maker founded in 2019, believes that laptops can benefit from the same level of upgradeability we see on a desktop rig and now presents a completely upgradeable notebook that is easy to customize and can also help reduce e-waste in the long term.

What really sets this model apart is the unparalleled customization and upgradability features that include:

An Expansion Card system that lets users choose exactly which ports they want on the desired side of the notebook. With four bays, users can select from USB-C, USB-A, HDMI, DisplayPort, MicroSD, ultra fast storage, a high-end headphone amp, and more.
Fully swappable motherboard that can be upgraded with new versions that support better CPUs, plus socketed storage, WiFi, and two slots of memory.
Easily replaceable components like the battery, screen, keyboard, and color-customizable magnetic-attach bezel. QR codes on each item directly point to guides and listings on the official site.
Framework Marketplace - an entire ecosystem that enables community members and partners to build and sell compatible modules.
What this company is doing isn't new - but holds the potential to get more traction thanks to its marketplace approach.
Also, the company's stated philosophy resonates nicely with our values : customisation to suit users' needs, repairability-centred design.
Seeing as the keyboard is replaceable, the Classic Thinkpad community could perhaps join forces under the form of a bulk order, and ask either the company or a third-party to build a keyboard (and its associated palmrest) that would emulate as closely as possible the look and feel of Classic Thinkpad keyboards.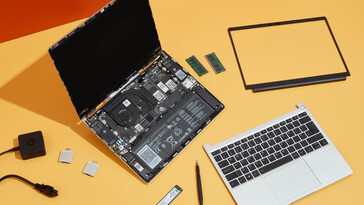 Obviously we'll have to wait for some time until the company's first models have been shipped and reviewed, and also until the current electronic components shortage has been solved. But I suggest that we keep that possible option in mind.