I installed XP x64 SP2 on a T500.
I read that I should have pressed F6 to install the AHCI drivers. Can I still install these drivers or do I have to reinstall XP?
I tried 13-1-legacy_xp64_dd_ccc_whql.exe for the Radeon HD 3650 and I have the correct screen resolution and hardware acceleration even though it complained that I don't have .NET 3.0.
I tried 6ea303ww.exe for the Conexant Audio chip, because I had read here that it would work because the W700 has the same chip. It works.
Now I have 13 missing drivers. I wonder whether I will find 64-bit drivers for all these things or could it work with a 32-bit driver.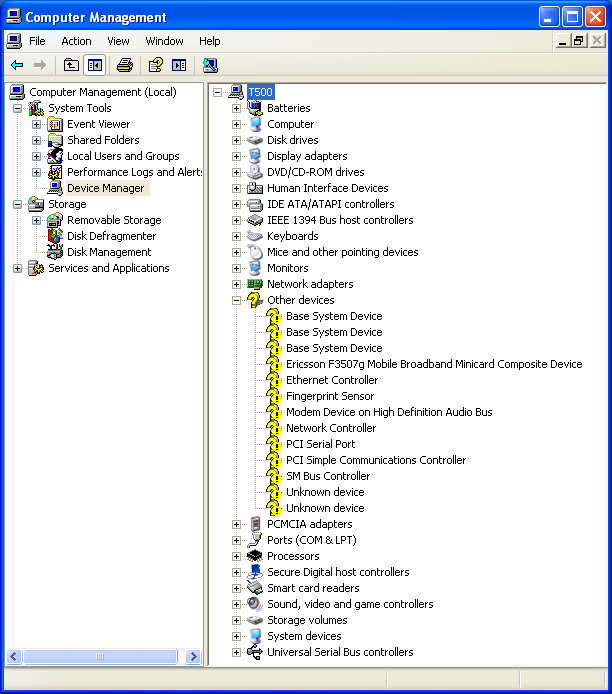 The same devices in the same order:
PCI\VEN_1180&DEV_0592&SUBSYS_20CA17AA&REV_11\4&8365E1C&0&04F0
PCI\VEN_1180&DEV_0843&SUBSYS_20C917AA&REV_11\4&8365E1C&0&03F0
PCI\VEN_1180&DEV_0852&SUBSYS_20CB17AA&REV_11\4&8365E1C&0&05F0
USB\VID_0BDB&PID_1900\3541430233863600
PCI\VEN_8086&DEV_10F5&SUBSYS_20EE17AA&REV_03\3&B1BFB68&0&C8
USB\VID_08FF&PID_2810\5&2FF31994&0&1
HDAUDIO\FUNC_02&VEN_14F1&DEV_2C06&SUBSYS_17AA2122&REV_1000\4&2B9C4D19&0&0102
PCI\VEN_8086&DEV_4237&SUBSYS_12118086&REV_00\4&318470AD&0&00E1
PCI\VEN_8086&DEV_2A47&SUBSYS_20EC17AA&REV_07\3&B1BFB68&0&1B
PCI\VEN_8086&DEV_2A44&SUBSYS_20E617AA&REV_07\3&B1BFB68&0&18
PCI\VEN_8086&DEV_2930&SUBSYS_20F917AA&REV_03\3&B1BFB68&0&FB ACPI\IBM0068\5&2890D699&0
ACPI\INTC0102\1