Between the T460 and T470, Lenovo changed the bottom cover so that only two screws hold it at the front, rather than three as it was before. The middle screw is missing and there are only the two at the corners. The new design carries on to the Thinkpad 25 and T480 as well.
The bad thing about this change is that if any of the middle front clips are broken, the bottom cover and palmrest will not stay together well in that area. This was addressed by some reviewers, for example:
https://www.youtube.com/watch?v=KTLTjCVNg2I
The HMM shows how to correctly remove the bottom cover to avoid breaking the clips - you pop the middle clips (next to the battery), the side clips and the back clips, and the cover comes off like a clamshell. you never pop or pry at the front clips, and so they won't break.
Unfortunately, as I recently found after taking the bottom cover off to upgrade my Thinkpad 25 RAM, even if you don't break the clips, there is a chance that the cover will not close shut in that front middle area, and a visible gap will be left.
Here is how it looks (gap area circled):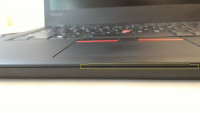 A similar thing was observed by a few redditors on the T480:
https://www.reddit.com/r/thinkpad/comme ... d_upgrade/
I tried taking the cover off and putting it back on a couple more times, thinking that I didn't latch correctly, but no matter what I did, the end result stayed the same - it actually looks snug before you snap all the back clips and tighten the screws, but after that, there is a visible gap. I double-checked that the clips are not broken (they are not), but it's possible that they have been bent a little bit (although I don't know how it would have happened, since it does not seem there is any stress on the front clip when the cover is removed according to instructions.
It seems that the palmrest plastic is warped around that area (maybe the bottom cover too), which leaves this gap. It's quite possible I did something wrong when taking the cover off, or putting it back on (although I was as careful as I could, and as I said - the clips are definitely not broken), but in the end the conclusion is thus:
If it's so easy to warp/bend the plastic so as to end up with such a gap, even when carefully following the instructions - this is bad design.
If the middle screw had been kept, like on the T460, this would be a non-issue, since the screw would have kept the cover tight. You can see how applying pressure to the place where the screw should have been eliminates the gap (left side - no pressure, right side - pressure applied):